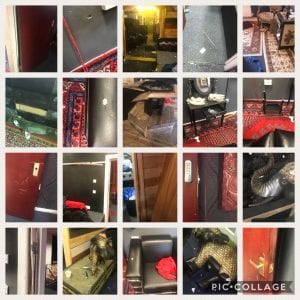 Over the last six months we have hosted parties at our venue on Airbnb. Yes… we allow parties and our place holds 200 people and sleeps 26. It's had national press to say that our venue is the "coolest Airbnb rental in Manchester." In fairness, when things go well, Airbnb has been fine; 99% of our guests give five-star reviews. However, when things go wrong, they just shut up shop and refuse to pay under their guarantee, even refusing cleaning charges.
One case amounted to about £5000 currently outstanding for damages. The other day a guest took all the keys, resulting in a locksmith being called out as we had other guests arriving, a £521 bill that Airbnb has refused to pay. After all the damage, we were told by an Airbnb Trust & Safety manager that we could take a cleaning deposit straight from the client. This approach worked well up until the other day when Airbnb said this was a deposit outside the rules and that we needed to claim any cleaning fees from the host guarantee.
When we pointed out we have in the past and Airbnb didn't pay they suspended our account and cancelled all the week's bookings. This backfired somewhat as the guests just booked with us directly and left Airbnb bad feedback on social media. Has anyone sued Airbnb for damaged property? Or cancelled bookings? We have £40,000 in bookings until 2019. I posted some pictures of the damage on Airbnb's social media (Facebook) and they were quick to try and get it taken down.