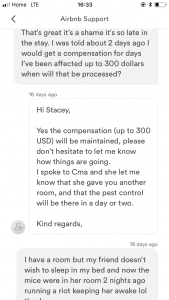 We stayed in a Toronto loft recently where Airbnb took the side of the host. The host was contacting us outside of Airbnb which is against policy. That wasn't a problem until we had issues with the place. There were mice and roaches. Pest control had to come out and kill the mice – which we weren't happy with as were animal lovers – but we shouldn't have paid over $2000 to stay in a mice-infested room anyway.
I couldn't believe when I complained to Airbnb they had the audacity to say she was a good host, take her side, and even paid for the pest control. They promised me compensation for my bad stay but closed the case as soon as I checked out and didn't send me any money. They even made it impossible for me to leave a review for this host, meaning loads of guests who are none the wiser will be checking into this hell as Airbnb stops anyone leaving them a bad review.
It is absolutely crazy how much they sided with them, as if they have some sort of secret deal with the company. They even suggested I move out the apartment before they gave me any money back. Bear in mind I was in a foreign country with no other money or home to go to. The guy who lived downstairs even had the code to our room and would let himself into our "private loft" when we were sleeping or out of the house. Airbnb later just ignored any message I sent regarding this case and closed it without anything else said.