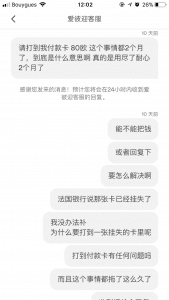 During this winter vocation, I traveled with my friend to Munich, Germany. We lodged at a German's flat. It was a wonderful trip and the host was a nice guy. Actually I think it was a wonderful experience there. However, several days after we left, we received a message from that host, who informed us that the glass desk in his living room had been broken. He suspected we did it, which was ridiculous. Why he didn't he talk to us while we were there, instead of several days after we left?
If we considered this issue important, I thought it would be better to connect with the police at first time. Well, after discussing it with my friend, we thought that the less trouble, the better. We are international students and aren't willing to get stuck in any trouble. We decided to agree with the host and pay him back 80 euro as a solution to terminate this problem. At that moment, the Airbnb nightmare began.
The Airbnb charged the fees twice, a total of 160 euro. We connected with customer service several times. They made a promise to us that they would return the fees to another credit card which I have saved on my Airbnb Account, but not the card which I used to make the payment before… how absurd they are. Once I connected with them, instead of solving the problems for us, they always said that the fees had been transferred onto the credit card, and we should ask our bank for help.
The bank clerk told me if they had transferred the money into my account, I would have already received it. However, at this moment, I still haven't received it. What makes me anger is once you connect with Airbnb, customer service doesn't always reply to you or, if they do, it takes several days. In 21st century, this is the most "wonderful" service I have ever seen.