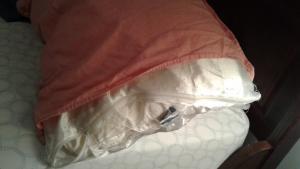 No more Airbnb-hosted homes for us. Although there are good clean places out there, we've had two ghastly experiences in two months. Airbnb refuses to post honest reviews, only five-star reviews. Avoid this Airbnb in Wynantskill, NY at all costs. We found the bedroom and bathroom filthy and extremely bug infested.
Food scraps, hair, bugs, and dirt were on both the floors and walls. Grime was on the door handles, toothpaste was splattered on the sink, counter, and bathroom mirror, and stains were on the carpet. The pillow cases and bed sheets were terribly stained and even had holes worn through them. The bath towels and washcloths were also badly stained. They looked as though they had been rags taken from a trash can. The place had the odor of a men's locker room. I wouldn't let my dog stay in such a filthy place.
Had it not been late and storming when we arrived, we would have never stayed. As it was, we found some Lysol cleaner and wiped down the tub and other bathroom fixtures. Then we went about trying to kill as many of the bugs on the walls, curtains, floor, and bed as we could. The host was not there. Her father let us in. He said that his daughter was renting out the bedroom just long enough to pay for her new Jeep. This is our second bad experience with renting through Airbnb in two months. When we spoke to their representatives the last time, we got nowhere. Never again.