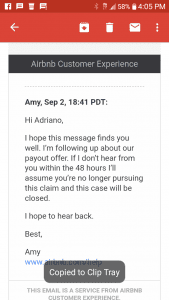 911 to all hosts: a must read. I had a $42,000 claim due to damages to my newly renovated $400,000 home. These Airbnb guests were the first people in the home since its purchase. They carved into furniture; two large dogs were brought into the home destroying furniture, carpets doors, paint, and more. Upon discovering this, I had the guests removed. I immediately filed a claim with Airbnb and their $1,000,000 guarantee. I was told that the insurance team would be in touch within three days.
After five days with no answer, I began calling and emailing, again with no response. When I called, they told me that they had everything they needed and they don't know why there is a delay. Still, there is no substance to their promises or guarantees. This went on for three months. I had to pay out of pocket to repair and replace everything in the entire house that I had only finished remodeling and furnishing a month before.
After three months I received an email stating I had 72 hours to respond or the offer will be withdrawn. I couldn't believe what I was reading. I was forced to accept a disrespectful amount to cover at least some of my losses. I have since watched Airbnb Nightmares on Netflix and have learned Airbnb has a history of not paying its hosts for damages by the guests. We are business partners and I have been a Superhost for over 2 1/2 years. Why would they not compensate me for these damages? Hosts beware.
*****Update 10/17/2018******
Boynton homeowner takes on Airbnb over damage