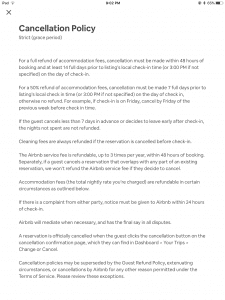 Planning trips are my absolute favourite and I have loved using Airbnb to do it. At the beginning of May, I started planning a trip to Seattle for a weekend. I decided that I wanted to stay downtown even though it was pricey. I found a cute apartment and booked it.
A few days later reality kicked in and I realized that spending $450 a night wasn't worth it, so I started looking for a cheaper alternative. Five days after my original booking I cancelled the reservation. However, this booking has a "strict (grace period)" cancellation policy, which apparently means you can only get a full refund if cancelled in 48 hours. On Airbnb's website it says if the booking is cancelled within 48 hours or 14 days prior to check in you are eligible for a full refund.
A month went by. I checked my visa statement and realized that Airbnb hadn't refunded me. I contacted them asking why I have only received $7.55 back instead of the full $459 paid. They said, "you only paid half of the full fee so you don't get any money back because you are only eligible for 50% of the full amount". This policy would make sense if the host couldn't rebook the space in time, but she's already got it rebooked.
Why am I spending $450 when she's got new guests in the space? She has rejected my request for a partial refund of $309 and a full refund of $459 because "that's her cancellation policy". Airbnb has been a nightmare trying to get a hold of to request a refund and I am lost as to what to do. This was a splurge in my budget already and now I've wasted $459.