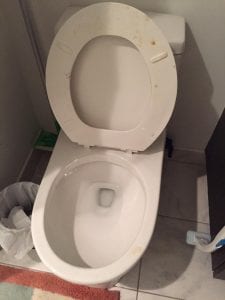 It started off as a decent listing on Airbnb with two good reviews. Since it was in the middle of downtown Toronto, a high-end neighborhood, I decided to book for 15 days.
The photos represented a photoshopped version of the real space, and the information about cleanliness was far from accurate. On the first night (check-in at 5:00-6:00 PM), the host arrived and immediately started talking about her interview and her concerns about not getting a job. I thought the condo was hers and she would have a room instead I found only one room and she says she sleeps on the couch.
She jumped right into a sexual harassment case she experienced at her university and I quote: "My professor tried to have sex with me in exchange of ideas." She proceeded by stating, "This triggered bad memories of my father touching me…"
In one sitting, she also stated that this case at the university ended with her at the mental hospital. She said she was dumb because she was not that smart in school and had trouble with the English language when they moved from China (when she was in high school until she reached university).
She went on to mention that she was afraid that if she did get this government job, since the majority of employees in that department are men, she believed that they would think that it was "okay to have an orgy with her…"
She then mentioned that she attempted to take her own life a few times, and put out her wrists and showed me. I told her that government jobs are far from a certainty for having such things happening.
After trying to console her and encourage her to use good words, she stated that she got this interview because her other professor sent a recommendation and if it was not for her, she would not have gotten interviewed. Once again, I tried to help her by encouraging her and stated that the economy was not going well and that people in the city of Toronto are complaining about the rent hike, especially those with children and parents to take care of.
She stated that they shouldn't have gotten married and had kids, instead they should've taken OSAP, studied, and ultimately focused on their careers. Obviously I disagreed and said that her comment was absurd. I mentioned that there are many like me who graduated with two degrees yet finding a decent paying job is difficult, especially as an immigrant. She disagreed and said everyone with a degree gets interviewed and gets a good job. Since she raised her voice and tried to force her opinions on me, I left the common area and went to my room.
Moving on, I started to find that the bathroom and other spaces were dirty. I looked for cleaning supplies but couldn't find anything except dish soap. Hair was everywhere and even the toilet seat was dirty. The shower was so small. The water pressure is high, but the downside is that the water doesn't drain and starts to rise. Hair and other things start floating… totally gross.
I asked her about cleaning supplies, and she told me to use the wet cloth. I tried to explain about different types of cleaning detergents, but it seemed she did not understand. Hygiene is extremely important, especially when sharing a space.
The next day, I contacted Airbnb and told them the whole story. I shared photos and explained in detail the mental issues that this host has and how it was definitely not safe for me. They told me that they would review the photos and then issue a refund for the rest of the time I booked.
After a few hours, they said that the apartment was not that dirty and therefore no refunds will be provided unless they inform the host about all the reasons why I am uncomfortable staying there. I suggested not to tell her all the reasons as I was afraid that since she was in a mental hospital and tried to take her own life, she might try to hurt me as well. I emphasized that the place was not clean but most importantly, it was not safe to spend 15 days with someone who is obviously mentally ill and does not have any friends.
On the third day, I spent the entire day out. The host messaged me every hour. At 11:00 PM, she sent her last text saying "it's almost midnight, where are you?"
Airbnb informed her that I had to leave due to an emergency, so when I arrived, in a very condescending way she said that she did not believe me and would not issue a refund. We got into a heated argument and at the end of it she agreed that if I found someone else to take over the rest of the days she would issue the refund.
The next day I found a new guest who was interested, but she asked if the host was the owner of the condo. If she was not, she would ask me for a document that showed that the host had a lease and that she would not get kicked out if the condo management found out about her using Airbnb. The host confirmed to me that she only rents from the condo owner and since she cannot find a job due to her sexual harassment lawsuit, she makes money by renting the condo through Airbnb, which pays all her bills.
She continued to say that the lady who booked a two-month stay (before I booked) had cancelled early. She does not issue refunds because she uses the money to pay her rent and bills. After a few hours, she came into the room and interrogated me about the new guest. I informed her that I was not feeling well and that we had to wait until she sent a request on Airbnb to book.
She refused to listen and instead came in the room three times while I was trying to rest and refused to leave. She insisted that I was rude because I was not giving her my full attention and eye contact. I told her that I was not well enough to give her all my time and that she should leave because I wanted to rest. She refused to leave, so I raised my voice and freaked out, telling her to leave and to close the door.
She came back again and told me that she was not going to issue a refund if the next guest booked because now she was afraid I would inform condo management, which would result in her getting kicked out. She insisted that I tell her when I will be leaving the condo and when my flight will be. She also told me to turn the volume down (I was listening to a lecture on YouTube at low volume, but she wanted complete silence and insisted it was music). She finally left.
I then informed Airbnb that I would be leaving and my friend would come help me with my bags since I am afraid she will physically hurt me. My friend arrived around 11:00 PM. We got the bags out, when the host got up and followed us to the room and then to the door. She asked my friend if she would be spending the night and she replied by saying, "No, we are only getting the bags out."
The host followed us to the door and said, "What's this? You didn't tell me of your plans. Where are you going? You can't do this."
I told her that I was uncomfortable staying there and thus I was going to stay at my friend's for a couple of nights. She asked for the key but I repeated: "I will come back after a few days as I need a safe and sane space."
Airbnb contacted me the following day after speaking to her, and they asked me to free up the dates I had booked and to return the key. I told them that I would only accept that if she sent me the refund, but somehow they kept insisting I free up the dates for other guests to book.
I finally agreed after a day, but it turned out that they were siding with her in order for her to get the keys back and to have the space all to herself while enjoying a free $700 + Airbnb fees. In addition, she filed a complaint to charge me an additional $300 for key replacement. I finally returned the keys and asked her to confirm with Airbnb.
Once I left the public place where we met, she followed me. She tried to take my photo and then kept asking when I would be flying. I told her that it did not concern her and to stop that behavior. In the end, the other guest sent a request to book but she rejected it because she wanted the guest to give up her ID. The new guest told her that she would only show her in person, but she declined.
Airbnb refuses to assist, stating it is the host's choice to do as she pleases. They had already promised that they would assist in helping book the new guest I found and then help her issue a refund. The hosts now says that she will not issue a refund if the new guest cancels within 48 hours.
I informed Airbnb that this was a trend and it is unfair to bill people just to chase them away and keep their money. The host switched to contacting me via Airbnb to inform me that she rejected the new guest's request. She said she would charge me for the stress I caused her if I reported her to the building management. I then told her that I will report her to the condo management and the police since she is trying to get more money from my card.
I am truly fed up and will not use Airbnb anymore. I am sick of the threats and attempts to extract more funds from me. How do I get my peace of mind back? How do I get a refund? How do I get Airbnb to ensure that the guests are protected from such fraud and aggressive psychotic behavior?