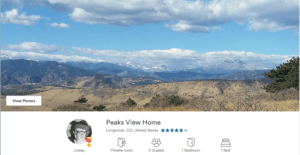 There was dust, dirt, bugs, pet hair, cat poop, and an odor throughout the house. I told the host before I booked that I was allergic to pets and she said it would not be an issue. This was not true as the pet hair, dander, and poop smells had me wishing I had only booked one night and not five. I wanted so badly to be staying back in the two-star hotel from my first night. I did Linsey (the host) the favor of feeding her neglected and emaciated old cat with what little food she had available for him. When there was no cat food remaining, I used cans of fish at my expense to feed the poor creature. I also shoveled the driveway and sidewalk to help out more. The listing stated there was one room available. I was surprised by a strange man she concealed from me who came out of the basement. Apparently, Linsey had been renting the basement out to some random person. She told me she did not tell me because he was supposed to leave on the second day of my five-night stay. This was another lie from Linsey. The man returned on my last night. He is a permanent resident of her basement. Any travelers should be made aware that there will be another man here during there stay.
One of the host's male friends who was over one night also drank one of my beers, so a guest can expect his or her food and beverages not to be secure as well if staying there. If you are good with pet allergies, uncleanliness, an unfriendly, nitpicking, irresponsible, and demanding host, a surprise strange man in the basement, and the police being called on you, then by all means stay here. Linsey was very quick to answer requests. I thought her quickness would translate into a good stay. This was not the case. I had expected Leslie to be friendly from her posting. She was not friendly nor willing to interact with me. Linsey kept sending me unwanted texts about the lights in the house, and accused me of not "respecting her house energy policy" by leaving a 15-watt fluorescent bulb on in the upper hallway at night. I thought that with the money a guest spends, one would not have to stay in a house of darkness.
I was a little late checking out. Linsey did not bother to contact me by text or phone as she had done so many times before about trifling things that should have been no issue, but she did manage to call the police to assist me in my check out. What I had expected from the posting and her promptness to be a friendly, peaceful, and relaxing stay, turned out to be a truly trying ordeal with an irresponsible and meddling host. I do not recommended anyone stay at her place. The host was dishonest, nitpicking, and unfriendly. She put my personal safety in jeopardy while at the same time I kept her place clean, shoveled her driveway, and fed her neglected cat. The location in Longmont was good, but I would highly recommend against staying here. For some place that was advertised as "420 friendly," Linsey calling the cops on her guest was very unfriendly and very much not cool. She put me in jeopardy to satisfy her own crazy mental disorder. Based on this experience with Linsey's house, I will no longer be using Airbnb.