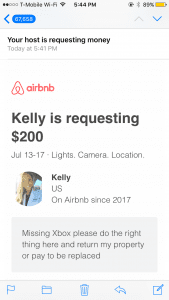 I'm complaining big time today. I am deleting my Airbnb account now. What a shame. My sister and I travelled to LA to celebrate her birthday with family and friends and we booked an apartment in Hollywood with two reviews (now we know: red flag). Everything seemed okay until we were in the apartment checking to ensure everything was nice and clean (as usual when staying at an Airbnb or hotel) and we found dirty and stained sheets and pillows, hair in the fridge, a full trash can, and dust in the living room area.
We contacted the host (never got in contact with her; it was always the boyfriend) and never heard from either of them. We called Airbnb and they said we'd be relocated within thirty minutes. At that point, it was approximately 5:30 PM. Thirty minutes went by and we were still waiting to be relocated, so we called again, and again, almost every hour because Airbnb would either keep us on hold for 40+ minutes at a time, or say someone else would call back. It was a really frustrating situation.
It was 1:00 AM and we still had not been relocated. Of course we ended up booking a hotel room. What kind of customer service is this? There has still been no refund, and we never heard from Airbnb regarding a solution. They said our case would be closed because we didn't have enough proof… we had more than ten pictures of the gross apartment. I do not recommend Airbnb to anyone. Needless to say, we still enjoyed our trip and didn't allow this experience to ruin our stay in LA. We're still working to get Airbnb to refund us for staying in a dirty apartment for one hour, as we paid for four nights. Airbnb Hell indeed.
The Airbnb was booked through my sister's account. Also, the host's boyfriend accused us of stealing an Xbox. None of us care for an Xbox, and truly don't even know what it even looks like. He stated he submitted a police report in LA; Airbnb told us the same thing. He is now requesting $200 from us.