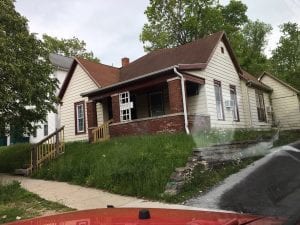 My first time using Airbnb was horrible. We were late to the table for booking a hotel room for a college graduation weekend. A friend recommended I try Airbnb. After looking at a few possibilities, I decided on a king-size condo for six people close to campus that looked nice. I asked the hosts a few questions and decided to book the property. After I committed, I asked a few more questions, but never heard back from the host. "Oh well," I figured.
Upon arrival at the "condo", I was shocked to find a rundown student house that had been converted to hold four small rooms. Our room was about 300 square feet. The parking spot in the back of the home was a gravel mess and there was no sidewalk to the front of the house; we had to use the steep, uneven driveway (that was shared by many other houses and businesses) to get to the front of the house. There was a long uneven staircase up to the house that didn't even have a hand rail up to the top.
In the evening there were no lights in the parking area or even the front of the house. I had paid extra for another person, yet there was no bed, sheets, blanket, pillow, or towels for the third person. Even though the three photos of this "condo" looked nice, the floor was filthy. I called and complained to the host. The following morning I used the microwave and blew the main circuit. We had to go to the graduation sopping wet. After three hours the host finally responded and told me to go flip the switch myself.
We decided to vacate the property because we felt unsafe. I contacted Airbnb when we returned, and they sent us through a silly process that accomplished nothing. To make matters more interesting, I did a Google search of the property and found that it is owned by a guy in Chicago; he had created a fictitious name to be a host. Airbnb told me that hosts often do that for privacy. They pretend to be someone else, and have all of my information? It's kind of scary if you ask me. After all I went through they did not even post my review, which is wrong on their part. I believe Airbnb is all about the host, and have little hope for the guests. I will never use Airbnb again.