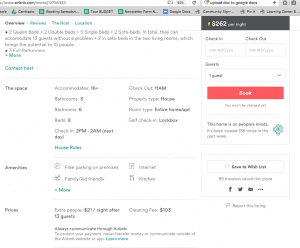 We reserved a house in Vancouver using a credit card and the host cancelled. The credit card was not refunded but was applied to a credit on Airbnb without our consent. When we reserved another house, it was marketed and advertised as $262/night with Instant Booking (when you mouse over the Instant Booking icon you see that you can reserve the property without waiting to hear from the host). I always thoroughly research the houses to make sure they will be comfortable and as advertised. There was one bad review but the others were fine for this particular house.
In the charges area of the house listing they specified that if you have more than 13 guests there would be a $21 per person additional charge. I was delighted by the price and entered my dates manually without use of the calendar and was instantly booked via Paypal.
Here's where things went very wrong. I had in my mind the $262/night cost promised and marketed. Vulnerable to bait and switch, I quickly booked it while traveling on the road (in a bit of panic about not having housing for a festival my band was performing at in Vancouver) and did not note that the price had been tripled. When I noticed the charge had been applied. The cancellation fee for that house was 50% refund with at least seven days' notice.
I called Airbnb customer service to try to find out what happened with the price and they explained that there was seasonal pricing for that house. I explained there was no mention of seasonal pricing on the listing. In fact, it was listed clearly as $262/night with only $21/person extra over 13 guests, which did not apply to me. They said I had approved the charge, which was true, but under a false impression from the listing.
Airbnb customer service said that there was a new feature that showed actual nightly rates when you moused over the dates. This feature was not mentioned anywhere on the listing or clearly anywhere during my research of the house. Since I did not mouse over the dates, I was completely unaware.
Buyer beware, right? This is clearly bait and switch. The hosts and Airbnb were completely intransigent about acknowledging the false advertising and did indeed keep 50% of my funds when I cancelled. No apology, no acknowledgement of the fraudulent marketing, just 50% of the considerable sum I'd spent.
Please advise any ways that anyone has found for which I can seek recourse. I'd be happy to join a class action lawsuit. I am reporting them to the City of Vancouver, the equivalent of the Attorney General of BC, the CA Attorney General, the Better Business Bureau and any other place that can put pressure on them to refund people they have ripped off and to change their marketing to be clear and accurate.