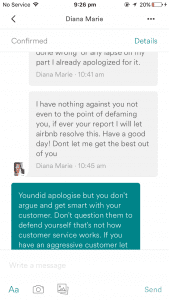 Out of my three years of being an Airbnb customer, this is the first 'bad' review I've ever written for anyone. Prices should match the quality of service and quality of premises. $93 is way too much for a night for the experience we had. I've stayed in dozens and dozens of Airbnbs including those on friends' accounts. Enjoy my eleven bullet points of cons.
– Check in was not as flexible as we liked. I'm used to hosts working around us when we are unsure about the check in time or arriving late. Instead we had to work around the host as she couldn't get out of work at a certain time so we had to wait later for her. Even with check out, she asked us to unplug all appliances (I've never had hosts ask me this). Airbnb hosts have been accommodating to our check-in situation. If we are arriving late or not on time we are usually given the option to self check in, not wait for the host to leave work. She even had the nerve to ask me to cancel if I was unhappy with the check in time.
– The lifts didn't work on our way out. We had to walk with heavy suitcases down three flights of stairs. Such an inconvenience. This really got me angry and the lifts didn't have any indication on whether they were in service or not.
– The bunk beds were not prepared for us. We had to put mattress protectors and pillow cases on ourselves. One of the mattresses still had plastic packaging covering it, meaning we had to take it off ourselves. There was no way we were gonna sleep on plastic so noisy and uncomfortable.
– The curtain rod fell on one of our visitors when opening the curtain for the porch door. What kind of death trap is this place? My mother fixed up the curtains herself. This place was just awful.
– The bathroom had really bad mouldy grout. I'm surprised no one has written a bad review.
– No coffee, no milk, no sugar. We saw a little sachet of coffee that looked like it was being concealed right on the unreachable cupboard like they didn't want us to use it. We had to go out of the premises to get coffee and milk.
– The second bedroom had no sun shades so I was woken up by the sun. I just couldn't get a good sleep in – just ridiculous – when I was up by 6:00 AM.
– The cupboard doors were falling apart, which could end up being a hazard.
– The Internet was very slow. My own 3G data was faster. Visitors couldn't use the wifi due to it being slow.
– The balcony door latch didn't close, so good luck to anyone who climbs in from the balcony and steals your stuff.
– We wouldn't have had to complain much about these issues. However, for $93 a night for a run-down condo in the Philippines, this is way too expensive. With that much you'd expect an immaculate place.
I'm so happy Airbnb has acknowledged her violation and poor customer service when a customer is unhappy. I was issued a partial refund. I have to admit, I was quite aggressive towards her from my frustration. But hosts should never attack or argue in a personal unprofessional manner. I said the lift was broken and the wifi was not working and she replied with: "It's not my problem."
She did apologise but in a sarcastic passive manner. I have photos and chat logs all to prove that I was honest in my review even though the host found it my fault because I was aggressive; that is all I did. I left her place more spotless than she left it for us.