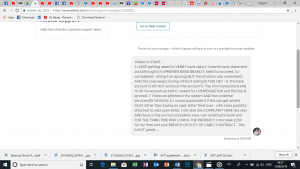 My relationship with Airbnb has become more and more rocky as I have observed their tactics. I have watched them drop off lower price units that bolstered supply (and thus brought average costs down) trying to justify the move on the basis of quality control. More recently I have seen them shut complaint cases after providing a poor response – with no opportunity to see if the complaint response is useful – and more recently still shut cases without even responding. Either through negligence or design, I am currently ring-fenced.
The attached is a very recent complaint that has been closed with no solution provided.  I have lost the last three property opportunities due to this.  As an account holder where 'legal consideration' has passed, Airbnb is contractually obliged to afford a duty of care.  So many fundamental things are failing such as automatic acceptance of bank statement uploads and the promise of a couple of transactions to hit said bank account to be subsequently identified to finalize verification. This would suggest really bad glitches in areas such as banking and security or purposeful black balling techniques.
Either way, they selected the wrong customer for such fun and games because I have OCD when it comes to seeking remedies.  I am a god with a bone when it comes to man's search for truth and justice. The good news is that my organization has a competing app on the horizon and if my situation is not unique there is a ready made queue emerging for the new services.  Thank goodness for Airbnb Hell as a platform.  I hope this gets resolved before the "open letter to CEO" phase.