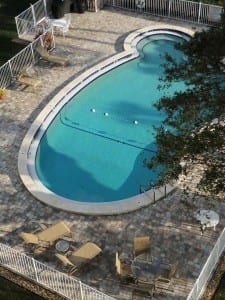 My host's name is Yvonne based in North Sarasota. This place is a Airbnb train wreck. Do not give her any money. The property is in a beautiful spot, however it's also in foreclosure. She is looking for folks with money so she can "get a personal loan" ($20k+) to bail her out on her other defaults (yes, it's more than "just the foreclosure"). As soon as she finds out you won't cover that for her, things get very nasty very quickly. She will present you with continually moving targets as to proving your personal savings and income information, after moving in. Claiming one fantasy entity after another requires your private financial information for you to continue living there. Imagine what she may use that for.
Yes, there is a "private" bedroom and bathroom. However, she walks in on your private space at will, all the time. There is no central air; it's there but needs to be replaced. She claims she "will have it fixed soon"… sure. Cooking in the very tiny kitchen is not allowed during the warm months, because there is no air conditioning. Did you see the attached picture of the note denying tenant access to USPS mail delivery service? That's a federal crime. The US Post Office and only the USPS owns all mailboxes (doesn't matter if you bought it or put it up – read the federal statute), not some home owner, landlord or tenant. Forget having any friends over; she refuses to allow it and if you do anyway, her behavior to them is atrocious. In addition, she's permanently on large, daily dosages of opioid pain meds.
If you're seeking to live with a continually whacked out junkie, this is the place for you. If ever there's a heroin junkie's mentality, she's got it. Does it still sound like an "executive suite" to you? There's little doubt she is failing to pay her mortgage at all, pocketing the rent she gets, and just waiting out the inevitable conclusion of the foreclosure process. It took some digging to discover she's in foreclosure. Yvonne, as an owner (not for much longer) and landlord, of course didn't share that tidbit with her tenant and has no clue I'm aware of the situation. Very sad. Do not enable this woman's outrageous behavior.