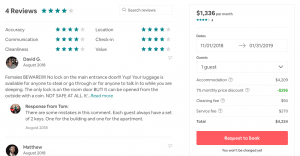 My fiance, our small dog, and I have been looking for short-term sublets after our lease ends this fall. We found an interesting listing on Airbnb and wanted to reach out to the host to schedule a time to view the place since we planned to stay there for at least a few months.
The interesting thing about the Airbnb interface is the "request to book" button follows you up and down as you scroll while looking at a listing, but the "contact host" button is buried way towards the bottom. All I wanted to do was reach out to the host to make sure it would be a good fit for us. I didn't know requesting to book would put my fate in the hands of the host, especially since it clearly states I won't be charged yet.
Apparently once I did this, the host received my "request to book", accepted it, and my card was automatically charged for the first 28 nights of my stay. I called Airbnb customer support immediately and messaged the host, both of whom completely understood the error and said they would be able to help me out.
A few hours later I got a call from customer support who said that since I was only trying to contact the host to view the place before booking, the host agreed to let me come see the place and then we would evaluate the situation from there. They decided that because of their long-term cancellation policy, they wouldn't be able to refund me the money.
I have called and messaged them non-stop over the last two weeks now, and they still don't want to refund my money. I even viewed the apartment, which was disgusting and had ants, dirty dishes, and garbage all over the place. The host seemed very reasonable and understanding in person. He agreed I should have my money back but was worried about paying cancellation fees, which don't exist for this situation.
The next day I got a call from Airbnb letting me know that the host had decided not to issue the refund. All of this could have been avoided if they had just not paid the host knowing full well that I never intended to book anything. I notified them immediately of the issue, yet they still decided to pay the host my money, and now because the host is a greedy thug, I'm out almost $2000.
Because he decided to stick with Airbnb's cancellation policy, he thinks he's entitled to my money for having performed absolutely no services or worked to earn it. Take a look at the attached screenshot and see for yourself. It is Airbnb's intention to scam innocent people out of money. This company doesn't care about its guests. They just like helping "hosts" (if you can even call this guy a host) steal money.