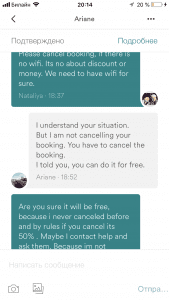 Today is twelve days before our trip to Berlin, and our Airbnb host informed us that they are having problems with their wifi; there will be no wifi in the apartment when we arrive. As we are going on a business trip, this is not okay with us – it's a very big deal. The host told me that they can offer 20% discount because of this, or a full refund if we are not okay with it.
Firstly, how can a host offer discounts? It's not through Airbnb – just on his word alone, and that's not good. In any case, we are not okay with it. The apartment is very expensive at 150€ per night. We are on business trip and don't need to stay there if there is no wifi at all. I asked the host to cancel the reservation. She said she would not cancel it, and that I needed to cancel. I told her by Airbnb's rules, if I cancel I can't get a refund. Again, she told me to cancel and I would get a full refund. However, this is a lie.
I just read the rules again; Airbnb says you should never cancel a booking yourself because you will not get a full refund, so the host is lying to me. Why she is doing this? Is this normal for Airbnb? I'm honestly shocked. I rented the apartment for 790€ for five days, so it's a lot of money for me. I should be treated well. We agreed with the owner at first, but she informed us that the apartment is still not ready. The wifi has not yet been fixed. If I knew there would be no wifi I would never have booked it. We are coming for overseas for work; it's not two kids traveling, but professionals. I'm ready to contact my lawyer.