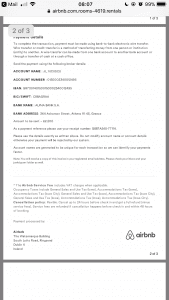 I was looking to rent a flat on Airbnb. My girlfriend was dealing with the queries which she believed were from Airbnb agents, as the site they were using looked exactly like Airbnb's. I believed they were genuine users. However, someone had taken details from Airbnb and used them to scam me.
I am so disappointed that this happened to me as that was all the money I had saved to put a deposit on a house to rent. I was living in a room in London and wanted my own place to live. Now I have lost £2,200 and have no choice but to stay in the room until I am able to save for the deposit again.
I am not happy of how this was handled by Airbnb. I have attached everything and you can see that all the invoices and ads had all their information and criteria on them. I have sought advice and understand that this has happened on other occasions on the Airbnb website.
As this is still happening today Airbnb should be doing more to protect genuine users' names and profiles and also protecting customers like me. I spoke to Airbnb and they told me that the host was a genuine user so I had every confidence that he was one. I never received any warning emails stating any suspicious behaviour. You can also see on the invoices his name as the host and contact details.
I would request that Airbnb refund my £2,200. Otherwise I will have no choice but to post all of my information on social media to warn others not to use Airbnb, i.e. Twitter, Facebook. I will also go to the major newspapers. All I want is my money back.