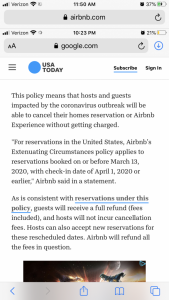 It was a complete nightmare trying to get this COVID-19 refund. Our check in was March 13th and California issued a state of emergency on March 4th while the WHO declare it global pandemic on March 11th. I canceled on March 12th and only received 50% of my money back.
Airbnb's extenuating circumstances state that any reservations made on or before March 14th were covered under the extenuating circumstances for COVID-19 blanket. They are now claiming it would only be covered if I had cancelled on March 14th (a day after my check in?).
My check in time was 6:00 PM Friday, March 13th, six hours before the 14th. I even would understand if they won't give me the money for the night of the 13th but they are refusing all of it which makes no sense; they wrote the publication and nowhere does it state they will only cover a refund if a reservation is cancelled on or after March 14th.
Yet their publication on March 13th said "any reservations before March 13th through April 1st are covered!" They then went and changed their policy on March 30th to "any reservations made before March 14th through May 31st with check in dates on or after March 14th are covered."
Don't get me wrong: I'm really glad they extended the time frame for people but I'm sure there are a handful of people that fall into a tiny crack like me with check in dates of March 13th.