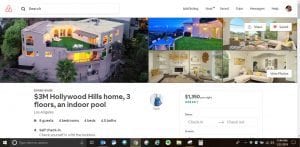 I own a $3 million dollar home in the Hollywood Hills of Los Angeles. I recently moved out of state and signed a three-year lease with a tenant. My lease specifies that subletting is illegal and specially calls out sites like Airbnb for subletting purposes.
In December of 2018, I discovered that my tenant moved out of my property and started subletting the home on Airbnb (my neighborhood watch found the Airbnb ad and informed me). The police have been called multiple times to my property due to large parties and neighborhood disturbances.
I have reported the listing of my property to Airbnb as an illegal sublet and also have flagged the host. I received an email from Airbnb stating that there is nothing that they can do as the host agreed to the terms and conditions of having full authority/ownership to rent out the property.
What? Nothing you can do, Airbnb? They're certainly making a boat load of money off an illegal sublet. I'm sure that's why they won't shut this ad/person down. I now am represented by a very large legal firm in Los Angeles, we are going through the eviction process with this tenant. The ad is still up and my "soon to be ex-tenant" still continues to rent the house.
This is a huge liability to me if someone gets hurt, my insurance will not cover accidents that occur while subletting. I would like to start a class action lawsuit against Airbnb for not vetting out hosts for ownership or authorization that they can rent out properties on the website. This is completely unacceptable and the only thing I can do is hire a very expensive attorney to remedy this situation. Who's with me?