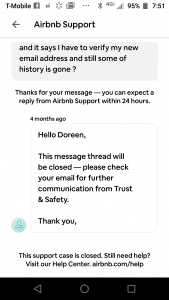 I feel that all this is related and I have not been able to get anyone to confirm that my account is secure. I am going to post this here and also follow up with the suggestions above. About ten months ago I was told that my app and account were not working correctly because I had multiple email accounts; probably because I accidentally signed in by phone or Facebook or both so this support person had combined the accounts into one and closed the others. I have never been able to use the app the same since.
I have received multiple emails requesting me to verify my personal information and download my identification and forward them to Airbnb only to be told that they were not clear so I needed to send them again (this was done after I had used Airbnb several times and paid through Airbnb several times). Then I was told that none of this actually happened and "I was confused"… yes, those were the words of a support person. Another one said that they assured me that the accounts were closed and the history that was supposed to be merged was just lost.
I stayed at another host's home, though it was quite difficult to reserve because Airbnb kept saying to try again later. Finally it worked and everything was great. It was their first Airbnb and I was happy to help them out by cleaning up a few things and such. We had made arrangements to stay with them again in a few months. After about a month, I received an email from Airbnb stating that they weren't happy with our stay and asked what I could do to make it better in the future. I immediately went to text them to see what the problem was and it said that the host was not accepting messages right now.
That was over a month ago. I have tried everything to get ahold of them and every support person has given me every excuse in the book. Keep in mind that the host has not left us anything negative, only positive reviews, and there is no reason for them not to want to explain even if they didn't want us to stay there again. I have not been able to get anywhere with Airbnb and even requested a full refund for our stay there because we had to clean up from the people before us.
I didn't mind before all this mess but I still have heard nothing. Some of the support message simply say "this support case has been closed" without any other response. I just want to know why without guessing, someone to confirm that my account is secure, and all of this is actually being done by Airbnb even if it is very unprofessional.