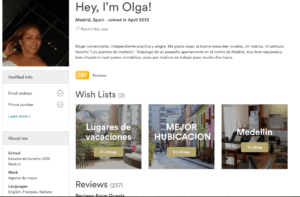 Where do I start? My boyfriend and I were going to Madrid for a few days to help him prepare for a month-long trip to Africa. He grew up in Madrid and has a Spanish passport. We booked an apartment from a hostess named Olga. She had wonderful reviews and seemed very nice. Well, our stay was not what we expected; it was horrible. However, I understand that my concerns may not be concerns to other people so instead of writing an extremely rude comment, I chose to write an honest, yet professional review of my stay. After reading her review and responding to her review of me, I deleted my Airbnb account. Here is what I wrote:
"The apartment is much smaller than the pictures make you believe. There is no terrace and the only windows are in the bathroom, which isn't good because the neighbors can see right through when they're open. If you have a lot of luggage, it is not ideal because the building does not have an elevator. There is really only enough space for two people. If you're just planning to sleep in the apartment and not cook or plan or anything special, it's ideal for that purpose since you won't be spending so much time there. But, since Madrid was more of a stop to another destination and not the destination itself, my boyfriend and I were expecting to have more space and expecting all the appliances to work properly. The apartment just did not fit our needs, and we felt that some things could have been explained better."
Her first review of me was positive, but when she saw that I was not in awe of her apartment like everyone else was, she attacked me and wrote a second review and a response to my review. Her response says it all so here it is (it is in Spanish so I will translate it for everyone):
"Any apartment is too small for Elizabeth's size. Of course the hot water runs out when she showers. I recommend that Elizabeth reads the description well before making a reservation. The listing of the apartment said that it was small and that there was no elevator. Also if you travel with four large suitcases it makes it difficult to go up any kind of stairs. In reference to the hot water: the heater has a capacity of 50 liters and this is the first time in four years that someone has complained that the hot water ran out. The internet is made of fiber optics and runs very fast, so we also have never had complaints about this either. I'm sorry she had so many difficulties, but I think the solution lies with her; to pick spaces that are super big and that have an elevator."
First of all, there was no hot water the first night we got there, nor the next morning. We turned on the shower and only cold water came out; clearly it wasn't working from the moment we got there. My boyfriend and I had to hand wash ourselves three of the five days we were there. Secondly, size has nothing to do with the perception of the size of the apartment. In her second review of me that is present on my profile, she wrote that I was "extremely heavy." I'm sorry, but not being a size 6 doesn't make me "extremely heavy." I'm a size 16. The average woman is a size 12. The apartment was objectively small. My boyfriend is like a size 6 or 8 and even he was upset with the small size of the apartment. Third, I had two small suitcases and two big suitcases. Honestly, her photos don't represent the apartment.
I was really upset that she attacked my size just because I was unhappy with my stay. I didn't mention it in my review, but every time my boyfriend and I tried to cook in the apartment, the breaker would just cut off and all the electricity was gone. By her logic, that is due to my size too. Instead of realizing that she needed to fix some things in her apartment, she attacked me with rude comments. What makes me so angry is that my post wasn't even mean. Just because I didn't fall before her feet and praise her like other guests have done, I guess that means a rude and hateful comment is warranted. In short, she was a total jerk and so immature. It's no wonder girls have body image issues by the time they're six. Other women constantly put them down and make them think if they're not a size 2, then they're fat.
Needless to say, I won't be using Airbnb again. This was my first and last experience with them. The fact that they don't have an email or a phone number for you to complain is so annoying. I reported the review and her response, but it is still active. I have attached a picture of her profile and this is the link. If you come across her place, don't stay there. Although it is (as I said in my review) ideal for people who don't plan to spend time in the apartment, don't stay there simply because the hostess is a demon from hell and will lash out at you if you don't praise her. From now on, it's hostels and hotels for me.