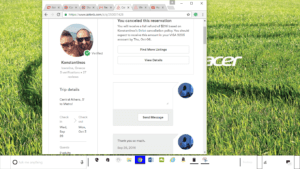 My story starts off in Athens, Greece on September 28th, 2016. I went into my Airbnb account and booked a stay with Konstantinos for $244. For some reason, the app stated the property was not available for my dates, and I would have to search and find another property. I did find another property for the same dates but for $318; this was a bit more but I needed somewhere to stay. Shortly after I received a message from Konstantinos stating that the property was not yet clean and it would take three more hours to be ready. I immediately contacted the host and bought the glitch in the system to their attention and that my credit card had been charged. My credit card should not have been charged because the dates were not available, so I had to rebook with another property for the same dates. Konstantinos asked me to please go and cancel the request and they would refund my full amount back to me. Konstantinos stated this made their ratings look bad and please go into the app and cancel the transaction and all my money would be refunded back to me. Here is a copy of the Airbnb messages between the two of us:
Konstantinos: Good morning! I am very happy that you will stay in my house! Can we set an appointment there at 14:30, because the house has to be cleaned and ready for you. Is it ok with you? Also consider that you need about two hours to get to the center from the metro. Waiting for your response and I will send you all the information about how to come here and check in! All the best, Kostas.

Me: I am sorry but my credit card didn't go through and we booked with someone else.

Konstantinos: Okay, but I still see that you booked with me. Are you sure you cancelled? Because if not, your credit card is going to be charged. All the best, Kostas.

Me: Can you please release the charge? We tried to book with you and an error stated I could not book because the dates were not available.

Konstantinos: I cannot cancel the charge because I have penalties on my status from Airbnb. You have to cancel the reservation. Please try to do it and message me. Thank you.

Me: I will call Airbnb.

Me: I will text you back with an update.

Konstantinos: Okay, but please try to do it quickly to avoid charges and also it looks like the place is booked now. It is not good for me. Thank you.

Me: Yes, I know it is showing booked; that is why the system said my dates were not available to book, and my credit card was still charged. I did cancel but my money has not been released. My bank said you can release the authorization hold on my credit card.

Konstantinos: As i told you, you have to cancel. If I cancel, I will have penalties on my Airbnb status. After you cancel I will refund you, don't worry. But if you don't cancel ASAP I will lose money because the place looks like it is booked. Please cancel ASAP. Thank you.

Konstantinos: Did you contact Airbnb?

Me: No. I did go in and cancel the booking, so I will go back and recheck.

Me: Okay, see if it is canceled now.

Konstantinos: I just refunded the whole amount, 170 euros. Thank you and maybe next time!

You canceled this reservation

You will receive a full refund of $216 based on Konstantinos's Strict cancellation policy.

You should expect to receive this amount in your VISA 9205 account by Thu, Oct 06.
However, I was only refunded $217.00 (didn't include the service fee) and the very next day I was charged another $244.00 on my credit card again. I have tried endlessly to have the wrong corrected but haven't had any success. Can anyone help or give me some suggestions on this matter?