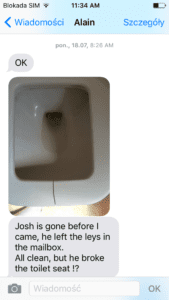 My guest – let's call him Jake – was supposed to stay from July 10 to July 18. Instead of staying for the entire trip, he had to take a flight back to the United States. He had to resolve an issue with his embassy after his passport got stolen. I was not notified of his change of plans. I repeat: I was not notified. My partner and I came back to find the toilet seat and the armchair broken (after warning Jake that the armchair was fragile). After attempting to reach my guest numerous times, he wrote me on July 18th (the day of his scheduled departure), stating: "Hi, I emailed you multiple times informing you that I left the apartment last Tuesday. I had to leave earlier based on the embassy's guidelines. I left the keys in the mailbox as instructed."
This was puzzling, because I had received no email, either through my personal account or through my Airbnb account. No message was sent to me between July 8th and July 18th. Had I been notified of his change of plans and had he asked for a refund in a timely manner, I would have done so. But, since he had to leave early due to unfortunate circumstances and since I didn't ask for a security deposit initially, I decided to let the matter drop. Suddenly this former guest (over a month after the end of his reservation) messages me on August 25th, noting his "surprise" that I did not refund him for the days he did not stay. Also on August 25th, Jake began to complain about the supposed unacceptability of my Airbnb listing. However, the other guests who have stayed with me after him have been satisfied. Rather, this is a clumsy attempt to steal money using scare tactics and playing the victim.
So, on the whole:
1. The guest only notified me of his wish for a refund over a month after the fact, after not having followed any of the cancellation procedures during his reservation and having failed to contact me to inform me of his early departure.
2. We know that his allegations regarding the problems and presumed "dangerousness" of my listing are false, since other users have been satisfied. Rather, he is dishonestly claiming that the listing is unsuitable to justify a full refund.
3. This guest alleges to have not caused any damage when I have a dated photograph stating otherwise. He even claims to be offended, and has called me a liar numerous times. He is playing, simultaneously, the role of a victim and a bully.
4. He may have been dissatisfied, but considering that he didn't cancel in time and that the damages he caused have cost 200 euros overall, I think this is a fair trade.
5. This guest is manipulative, vengeful, dishonest, and petty. He is hysterically implying that I broke host rules and that this justifies me refunding him for the entirety of his stay. He, and the obtuse labyrinth that is Airbnb customer service, is making me reconsider staying on as an Airbnb host. Airbnb hosts, beware of an overweight dark-haired guest in a penguin suit. He doesn't know how to respect property and will use any manipulative tactic imaginable to bully a host into a refund.