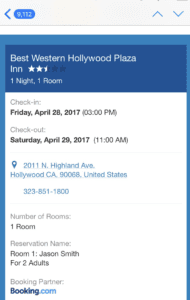 Where should I start? First, the listing stated the apartment had four bedrooms; it actually had three bedrooms and a couch in the living room. The pictures were not very accurate; the apartment was a lot older looking than what I expected. Those are just the minor issues. The major problems came into play when the host started accusing my guest and I of smoking and drinking on the premises. I explained to him that no one in my group smokes. Our host had the handyman on the premises spying on us. I just thought it was some weird old man walking around fixing things but no, my host told us someone complained about too much luggage being brought into the apartment. Then he would call all hours of the morning to threaten to cancel my stay if I have more than three guests in the house at once.
Once I asked the host if there was anything we could work out for the fourth person. He told me to get another Airbnb or hotel. So after spending money booking through Airbnb I booked an extra hotel room for one extra guest. He still called me the next day telling me my trip has been cancelled and if I don't pack up he will call the cops. He also kept reminding me how small of an Airbnb I rented and how he wasn't going to waste time explaining things over and over. I told him to call the authorities so they could hear my side of this story but of course that was all a bluff.
After exchanging texts and our choice of words over the phone, I simply packed up our belongings and finished our trip in a hotel. I am currently asking for a refund and I won't stop until my case is further looked into. I don't want to pull the race card but I really couldn't think of any other reason he treated us this way. I travel a lot and I have used Airbnb before and we have never experienced anything like this. When all this was happening I was looking over the cancellation policy and it highly favors the host.
I will never stand for this treatment, not when I spent my hard-earned money. I will take every step I need to until something is done because this is unacceptable. I have contacted the Airbnb corporate office because nothing can be handled through the website; all they do is email and send you their terms. I promise I couldn't make all this up if I wanted to. I am a very easy going young man but I will not be taken advantage of. I hope this review is seen by the right people. I have attached receipts and a confirmation showing I booked another hotel to avoid any further issues for the next two night. My trip was from April 27-30, but I only stayed one night at my Airbnb before I was kicked out. I will not stop until I am refunded.