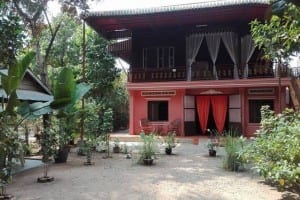 A couple of my friends and I traveled to Siem Reap, Cambodia during early monsoon season in June. I decided to go for my first Airbnb experience and to be safe, I chose a superhost thinking that will be the safest option. What was in store during this off-peak season at 'My Home' (name of the superhost's house) was a super warm experience, literally. As the temperature was high and with a little bit of rain, it was difficult to sleep at night as it was very hot (35 degrees Celsius) and humid with only a tiny fan available (if you can call it that) to circulate the air.
On top of this, there were lizards and insects coming out of the wooden roof from small crevices. As my partner is afraid of lizards, we changed rooms with my single friend living in the other room. It worked for five minutes before a lizard came out of the ceiling and my partner was paranoid it might fall on us. At the same time, a small bee started hitting the light on our mobile phone, in the dark; she thought it was the lizard and started screaming. After I calmed her down, we decided to go to a hotel the next day as the place was booked for two nights.
The next day, we left the place after coming back from sightseeing as the hosts were asleep and my friend staying in the other room was there to explain why we left. The French couple were fine the entire length of the trip and, expecting a bad review, ended up writing a nasty review that we left like thieves and gave a fake note to the driver they hired for us. We did not ask for a refund nor did we create a fuss. I ended up giving a nice short review that they guided us well, but as for the review they wrote accusing us of being thieves and cheats… it made us realise the lengths people go to discredit guests from whom they expect bad reviews. I wrote to her to explain and make amends to the wonderful driver who took us around and her replies can be seen here and here. I realised that people can be racist to people they think won't fight back. How can such people masquerade as superhosts is a mystery.