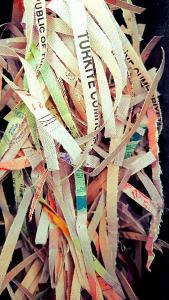 My very negative experience with Airbnb has turned into an amusing evening. I rent out my two-bedroom apartment in the center of Barcelona for just 35 Euro per day (yeah, that's correct, in January the off-season price is that low). I had guests from Turkey who were supposed to stay for three days. On the last day of their stay, they found out that the bathroom curtain was damp. That's correct – it turned out that the bathroom curtain was humid after three days of their stay.
Airbnb sent me an email that the guests were "experiencing some serious issues with their stay and they need my urgent assistance". They gave me a 30-minute deadline to reply to them. I noticed that email in 40 minutes and at that point the reservation was already cancelled on my behalf with a full refund. The Airbnb case manager wrote me that everything was okay, and the guests were willing to continue their stay (obviously for free). I asked them to explain the background of their decision, but as usual they just ignored my messages (they always do so when they rip off the host; no one answers your messages and calls and nobody cares anymore).
Then I got really mad and I sent a message to the guests asking if they had already checked out. What did they reply after staying for almost three days (it was a late evening already) in my flat? They told me that they were going to stay a little longer and they would let me know once they wanted to check out. I headed to the flat hoping to face these impudent motherf*&%ers.
When I entered the flat, there was no one inside. All their stuff was still inside, so they really decided to continue staying in my flat for free and enjoy their vacation. I grabbed all their stuff and gave it out to the homeless people on the street. By the way, they were very thankful to me. One of those homeless women was also kind enough to tell me that there was a passport in the jacket I gave to her. I checked the passport and noticed that he had no visa to stay in Europe and in fact the guest was here illegally. What a gift of fate. I passed his passport through a shredder as it was not valid.
Furthermore, I also changed the locks in my flat as they had the keys with them, so they were afterwards unable to enter the flat. When I returned home, I noticed tons of messages from Airbnb support. Finally, for some reason, they decided to reply to me. The support agent begged me to open the door for the guests and let them take their stuff.
Which guests did they mean? According to my payout statistics, I had no guests at that point. I had to reply to Airbnb that since I had no current reservations, I was unable to help them and of course I would not let some strangers into my apartment.
They first promised to pay me for one night, then they promised to pay me for the entire reservation. Of course, that was very kind of them, but I could not accept the money for the reservation I never had. Airbnb threatened that they would involve the police and of course I supported this idea. The guests went to the police station, and obviously the police officer called me to ask for my permission to open the door to these guests, which of course I didn't give. The photo shows you what a passport of a bad tourist looks like.