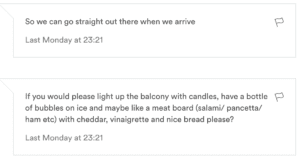 I live in a penthouse in central London and I was renting out my room; I mistakenly allowed guests for just one night. Someone decided to book at midnight for the next day and I accepted. As soon as I accepted she sent me a message asking me to light up the balcony with candles, organise a charcuterie board and have champagne on ice (attached image) – this was after I accepted and this set off massive alarm bells, (Also cheddar? Honestly, she really is that basic if she can't ask for any other cheese). She was a total nut job. I am not a concierge.
I couldn't cancel because of the last-minute issue. I met her and her partner; she was about 28 years old, looked nothing like her picture, and frankly was so chavy. Her partner was a middle aged man. I suspected they were getting away from the wife. Anyway, she failed to read that it was a private room and was shocked when I didn't leave my own home. Totally ridiculous – although she looked illiterate. She got over it; they left to go out for their dinner and got home late. I was stressing out, decided not to go into work tomorrow morning, and agreed that they could check out late at 2:00 PM. In the morning, they didn't come out of the room at all apart from one time when she came out in just a towel asking for more cold water bottles. I obliged and they went into the room, closed the door, and just kept moaning from the sex they were having. It was so grim.
I knocked on the door at around 1:00 PM because it seemed like they still hadn't even gotten ready to leave. They left at 2:00 and told me they had left some water bottles and the keys in the room. It specifically says on my listing that there is no food or drink to be kept in the room other than water. In the room were about ten half drunk water bottles (so odd) and half a bottle of champagne that had been left over night and absolutely stunk up the whole room; it smelt like a booze den. There was mud all over the wardrobe, weird black flecks on my white walls and brown stains on the Egyptian cotton sheets from the kilos of makeup that freak uses. Worst of all, there were other stains on my very expensive sheets. I hired a professional cleaner to come in to steam the carpets and bed, threw away the sheets, bumped up the price, made the house rules clearer, and put a two-night minimum stay on my listing. I bloody hate those scumbag chavy disrespectful weirdos. The worst part is, because I've only been doing this for a short time, I want to keep the good reviews that I have so I'm too nervous to give her the super negative review that she deserves.