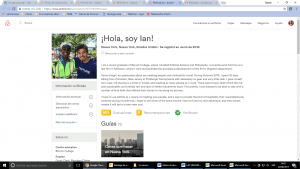 Last weekend I visited NYC and decided to stay in an Airbnb. Obviously the pictures looked very nice and all, so I went for it. I arrived late on a Friday, tired from the bus, and just wanted to get in the shower and sleep before the touristy and busy day I was going to have. I arrived at the house and I had to guess where and how to open a lockbox that was placed in a nail salon next to the building to get my keys, feeling like a total thief. However, that wasn't the biggest issue. The neighborhood wasn't safe, and the building couldn't have been worse: very old, full of trash, smelly. I thought to myself "never mind", but then saw my room. At first impression it seemed alright, but when I looked closely I started to notice that it was very dirty: I mean dust everywhere, a little trash on the sheets (which led me to believe that the bed sheets had not been changed, because if they had removed the sheets to change them, the trash would have fallen off). The only place to leave my things was on a little table that was filthy and the worst part was the bathroom.
I needed a shower after the long journey and I realized that the shower was really gross, and had hair in it; you could see the dirt, there were leftover things from previous guests, and as soon as I opened the shower I realized that the water didn't drain. I had to remove a pile of strangers' hair myself, and ended feeling dirtier from the shower than from the bus. The toilet had pee marks on it and pubic hair. Underneath it were many other marks and things; you could notice right away that it hadn't been cleaned in weeks.
The air conditioner didn't work properly so my first night in NYC was a nightmare. I put a towel on the bed and I covered the pillow with my sweater because I didn't want my body touching the sheets or the cover (which had some unknown spots on it that could have easily been something sketchy). Really the worst part is that I got charged a 30 USD fee for a cleaning service. Obviously I asked for a refund from the host and he denied that the room was dirty. If he is the host he should know when the room is clean. I went through Airbnb to get a refund I still don't have a resolution. Since the host decided to deny paying me back for the cleaning fee and not apologize about the state of the room, I decided to share my story publicly.