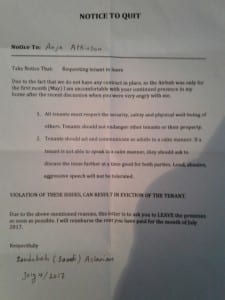 The room was a shoebox with six people in the house who all shared the laundry right outside the door to the room. Three people lived upstairs, which was another separate property, something not mentioned in the posting. The other door in the room was to the shared washroom with the toilet which was inches from the door. I didn't expect these noise factors. I didn't complain about these things, but other guests should be aware of the noise.
Expect to be questioned about your whereabouts regularly, whether you've eaten, when you're working, on your days off, if you have health problems, and whether you are at home. I gave this woman my cell number when I arrived and she's been happy to text me asking these types of questions, or knock on my door and ask me questions as though that's perfectly acceptable.
The booking was through Airbnb. When I arrived, the host wanted a cash payment for the damage deposit and rent going forward, something she never mentioned when she texted or messaged me on Airbnb or talked with me by phone before I arrived. I wasn't prepared for this after travelling all day being up at 4:30 AM. I offered a cheque but she didn't want one, saying she was afraid of it bouncing. That's essentially saying: sorry, I don't trust you. What a warm welcome that was.
Not having cash on me, I gave her a cheque for the damage deposit, which she didn't seem thrilled about. This was my first mistake as a first time renter through Airbnb: to capitulate, listen to anything she said, and not follow Airbnb's policy about payment through the platform after the first month. I was tired after traveling all day so just handed over the cheque, but thereafter she demanded cash for rent. If I offered a cheque, she refused and simply demanded cash only, like she thought she was perfectly entitled to demand that.
She was in her own world and didn't communicate well. She's Iranian and likes to talk about her country and herself generally. She has a lot of political opinions and comes off as if her point of view is right and she's going to educate you. I have to take full responsibility for this rental going off the tracks because I wasn't prepared to deal with someone who right off the bat wasn't going to follow Airbnb's policy, who was demanding and thinking just about what suited her. Right at the start she complained about Airbnb delaying paying her the rent I paid them for the booking, texting me complaining why her rent wasn't paid through Airbnb. I told her to contact Airbnb. She first thing she complained about payment issues, whether it was through Airbnb or trying to accommodate her by offering a cheque.
After arriving we discussed the rental and I agreed to stay two more months. I wouldn't have anticipated a problem but she consistently violated my privacy. I walked into the kitchen and she would ask me if I've eaten, if it's my day off, or if I'm working. There's a note on the fridge telling people to keep the toilet seat down. Essentially, you can be prepared to be treated like a child. This was not a rental situation appropriate for adults in any way. She didn't follow basic BC Tenancy Laws and no written agreement was made to dissolve the Airbnb policy guidelines for renting. She assumes that policy is dissolved when I set foot in her house and it's now her way or the highway, although nothing was discussed about different terms of rental.
On Canada Day I worked all day. It's about a three-hour trip to and back from work. I was sick and texted the host to say I would leave a cheque for the rent on the dining room table later that day. She texted me back demanding cash, instead of saying thank you and wishing me a happy Canada Day. She also said I could pay her by Interac, which I wound up doing. I texted her and told her the payment was made and after 25 minutes she texted back that she hadn't received the payment and that she hoped I had sent it: no thank you for sending the payment, or well wishes on the holiday.
Expect complete rudeness, suspicion, and zero appreciation for any effort you make to communicate respectfully. Implying that I hadn't sent the payment was the last straw, because she was basically implying I was dishonest and hadn't sent it. Keep in mind I'd worked all day. It was Canada Day and I was recovering from a nasty cold. I confronted her about her dishonesty and rudeness in implying that I was essentially lying about paying her through Interac. She didn't apologise, nor apologised on any occasion. She was generally argumentative, and didn't seem to even understand why I would be upset at this point. No consideration – just demands.
On July 5th, she left me a note on my door, which I have attached here. I hadn't seen her since July 1st. She felt confronting her about her dishonesty was harassment. Expect pretty extreme craziness and no understanding on her part as to why I would be upset. I frankly think she just doesn't give a hoot, so be prepared for full harassment.
If the issues continue this month I will have no choice but to take her to arbitration through the BC Tenancy Board and ask for the full three months' rent back. I may consider doing that anyway, based on this letter she left.
This is my last month renting here and I'm working full time while trying to find a place to rent. The situation is just completely bonkers. She'll just harass you no matter what. No peace, no privacy, and expecting cash payment instead of paying through Airbnb. Like I said, it's my own fault for not paying for the damage deposit and other months' rent through Airbnb, but I capitulated to her demands because I'm a considerate person and she was complaining. I thought it might be difficult for her to wait for the rent payment delay through Airbnb. Apparently sometimes the delay can be over a week. At least that's what she told me; she could be lying. That's really the only reason I decided to pay her directly because she was complaining about Airbnb's payment system and I'm a softy. Big mistake.
Renting here has been very stressful, so avoid this nightmare of a rental. Check out the harassing letter she posted on my door which I found this morning. I guess she's translates being confronted about her dishonesty and rudeness to me and complete lack of consideration as harassment. I've taken pictures of everything in the house as evidence that I've kept everything clean and no damage was done to her property. At least the note is evidence in my favor if I have to decide to go to arbitration.
The one other woman renter on the property with whom I share a bathroom had no issues with with me; she's actually very nice. We hugged before she went on holidays and I wished her well. Yet somehow I'm a harassing, abusive threat. The host just makes things up and comes off as really paranoid and erratic. She won't admit any wrongdoing and generally doesn't communicate when it matters the most. Avoid it like the plague.
In the letter, she felt I was abusive and aggressive for confronting her even though she felt it was okay to imply I'm dishonest, that my cheques will bounce, and that I was lying about paying her through Interac. She felt it was okay to completely blindside me and not follow Airbnb policy. I was upset when I confronted her, but never used profanity or otherwise. I have the right to be upset. She never tried to work it out with me or apologize. She just left this note. She thinks I'm endangering someone or some imaginary property, but I'm not sure who that is or what property she's talking about. She's really, really paranoid. She can't handle it if someone has the courage to tell her the truth or if someone is direct, or if you get upset for being treated so terribly. In response to the letter I have communicated only through the Airbnb platform. If I was angry for no reason that would be different but she's pushed me too far.
After showing consideration about paying rent through Interac, she implied I was dishonest and hadn't actually paid. That's enough. Yes, I'm angry but I expressed that to her on July 1st in the span of about one minute and haven't seen her since. I also messaged her through the Airbnb platform afterward to be clearer about why I was so upset. I wouldn't be around for most of July except to sleep and I was putting it behind me because I have more positive things to focus on. Yet I'm a threat somehow.
I also asked her via the Airbnb message platform to stop texting me but she kept texting anyway. The Airbnb platform is a secure platform to communicate but she can't even follow a simple request so that communication is recorded on the Airbnb platform. I've also blocked her number so she doesn't harrass me by texting anymore. She's classic passive aggressive to the extreme.
Onwards and upwards. I'm going to look for a place to rent today and actually after writing this post, have decided to file a dispute with the BC Residential Tenancy Board. Her disrespect and the lack of privacy and implying that I'm dishonest, and then leaving this letter is all too much, it all constitutes harassment. Thanks for providing this website to share my story.