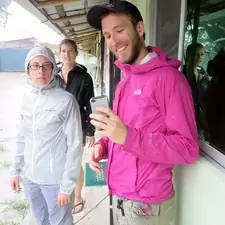 My guest, Sean, arrived with two of his friends who were in a band. They seemed like a nice group of young men, although I had mistakenly thought his party would consist of a female and two males. Had I known it was three men, I wouldn't have accepted the booking. At about 3:30 am, I saw the bathroom light come on, heard someone use the bathroom, and saw the bathroom light go off. Then I saw the person who had used the bathroom coming towards the living room where I was lying on the couch for bed. As he got nearer, I was surprised that he was approaching me and asked, in a normal speaking voice, "What do you want?"
That's when I realized it was Sean and he was either nude or wearing "barely there" underpants. I couldn't tell which it was in the room, which was only illuminated by streetlight and the light from my computer and other electronics. In response to my question, Sean said something like, "My bad. I sleepwalk," and returned to his private room near the back of the house. Alone, with three men in the house – one of them just having gotten very close to me while naked, or nearly so, and while I was lying in bed – I was too afraid to go back to sleep. So I called Airbnb and they gave me $100 to book a hotel, which I did. I spent the rest of the night there.
I returned well after the time Sean had told me his group would leave. They were indeed gone and had left my exit doors and windows open and, therefore, unlocked, which was against my house rules. However, given the whole naked sleepwalking thing, that was the least of my concerns. Because of what happened with Sean, I looked up sleepwalking on the National Sleep Foundation website. According to the researchers there, a sleepwalker is not easily awakened and, when they are, they are confused and disoriented. Sean using the bathroom without stumbling or being confused about where he was – just as normally as an awakened person would – as well as responding to me coherently and, it seemed to me, with full alertness, when I asked him, without raising my voice to get his attention, what he wanted was not typical of a sleepwalker, according to research.
In addition, if he is aware that he sleep walks, why would he choose to sleep naked, or practically so, while in another person's home – especially the one of a total stranger and a female at that? He also should have informed me before he booked my space that he was a sleep walker. The Airbnb representative told me she had "educated" Sean about the fact that he should let hosts know he sleepwalks. In my review, I informed Airbnb that, in my opinion, Sean should be barred from being a guest before he rapes somebody. As an Airbnb host, this was the first time I felt like my safety was threatened. This experience has made me rethink how I will proceed as a host going forward. In the attached photo, Sean is wearing pink.