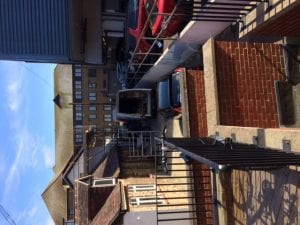 I am still fuming following outrageously dishonest treatment from a host in Leatherhead in the UK in early May which was arrogantly backed by Airbnb. They took over $849 AUD without providing any accommodation. I refused to stay in the accommodation shortly after check-in after enduring parking hell involving a building site with extreme restricted access in the "designated parking area" (see photo) and access to the flat. I was met with a drummer in the room above practicing and a room/flat which would never be described as "spacious" and certainly not "homely".
The host was overseas at check-in and unreachable for three days. Instead he sent his mother to officiate, who showed no sympathy and was only concerned with defending her son. Airbnb even phoned me on my 50th birthday to tell me to take a hike and reduced me to tears as I apparently "hadn't followed the cancellation procedure." As far as the website was concerned, I had done so to the letter. The Airbnb representative was just nasty: she refused to take my photographic evidence into account that backed my case, saying that it was " irrelevant" and condescendingly told me that "she didn't have a problem with the website".
I will never use this company again. I will certainly be warning others. The way the company operated towards me was utterly immoral and shameful and appears to deliberately make it extremely difficult to contact them. I would not trust them ever again. A disgusting organisation. Go to hell Airbnb.