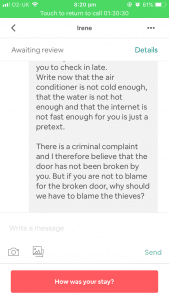 My boyfriend and I were travelling around Europe for a month over summer. We decided to finish our trip in Florence and booked an Airbnb for three nights. In the listing on Airbnb, the apartment appeared larger than it actually was and said it provided wifi, AC, and necessary toiletries, e.g. shampoo, conditioner, etc.
When we arrived we realised the apartment was much smaller than that shown in the pictures, the AC barely worked, the wifi constantly disconnected and was very slow, there was no hot water or bins, and the toilet didn't flush properly. We contacted Airbnb and our host immediately. There was no reply from the host. Airbnb said they would forward my message along to the host.
We contacted Airbnb everyday about these complaints and were told they could do nothing about it unless they could get through to the host. On our third day the apartment was broken into and our money stolen. We called the police and filed a report, contacted Airbnb and called the hosts. The hosts did not respond, despite three of them being linked to our apartment on the app.
Airbnb said they would also contact the hosts and could not get through to them. We asked to be relocated as the apartment was not safe, due to the door not being able to lock anymore and a chunk of the wall being missing. Airbnb said they would pass it along to their trust and safety team and call us back. We were also told they could not relocate us and would only subsidise the fee of somewhere else by 50% if we found it ourselves.
We called a total of 13 times that day and were repeatedly told to wait for a call back. We were never called back. A member of the trust and safety team emailed us about the matter the following morning around 4:00 or 5:00 AM. However, this was too late as it was our last night and we ended up leaving at 6:00 AM to go home.
Whilst on our journey back home we were contacted by the hosts, after hearing nothing for our entire stay, and blamed us for the break in. They told us that they had the right to ask for compensation for the damages caused by the break in and that our complaints about the hot water was pretext. They stated that they needed to get a professional in to fix the wall and we should have to pay for it. They also refused our request for a refund.
We argued back and forth for a while and eventually they said they felt sorry for us and had decided it wasn't our fault but that they shouldn't have to blame whoever broke in? The lack of response or willing to accept any fault from the hosts and the horrible customer service from Airbnb made us feel completely abandoned. We are in the process of arguing for a full refund.