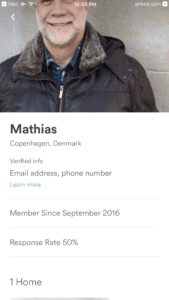 I signed up for Airbnb a week ago looking for an apartment in Copenhagen for me and my family to stay during a business trip. I thought that renting an apartment would be more comfortable for my two children. I filtered through many apartments. I requested a few and was denied by the hosts, saying that the apartments were not available the days selected. So after a few automated rejections I decided to send messages directly to the hosts asking if the apartments were available the days I needed. I found one conveniently next to the convention center in Copenhagen that was available. The description had a name and picture of the host and said "verified". I now know verified means something entirely different to Airbnb. The host sent me a message asking for my email so he can send me a rental agreement. I received the agreement, signed the paperwork, and sent it back.
I then received an email from Airbnb requesting to pay for the apartment. The email name plainly said "Airbnb". The email was identical to the ones I had received from Airbnb in the format and design, from the apartment listing to my photo and the host's photo. I mean exactly the same. I clicked the link and it directed me to a website that was exactly the same as Airbnb. I was logged in and as I clicked links it clicked in and out of my account. It had my PayPal info. I went to pay with PayPal and it showed an error message that said only wire transfer were allowed. It provided details for the wire transfer and said to please upload the confirmation to Airbnb afterwards, all through this phony Airbnb website completely identical to the real one. This wasn't some small scam; I could upload data, and log in and out.
I received confirmation emails identical to Airbnb's emails. The night I was traveling with my family I received a message from the host saying the apartment had flooded and I should find other accommodations. It was midnight; I was furious. I got on a plane with two little kids and nowhere to stay. The host emailed me through Airbnb again saying I would receive a refund shortly. I called Airbnb and found out this whole thing was a scam. They would do nothing as they had no information about the host. Nothing.
What if this person was a murderer, rapist, or junkie? My family could have been in real harm. I can't believe they have no information about this person except an email. They accept no responsibility and still have his listing on their site. I will provide a link. I searched around the internet and now understand this has been a scam that has gone on for a while now on Airbnb. Their safety precautions now are to tell guests to simply beware through their terms and conditions, not to really verify their hosts by asking for identification, bank accounts, or credit cards. I just can't understand how they can openly offer a service that allows scammers. They have done nothing to protect their users after scams have been uncovered and will do nothing. Something terrible will happen if they don't really take some action. I have notified the FBI about this fraud so if enough people do they will examine their business practices. It's called an IC3: Internet complaint center. I would stay clear from booking anything through Airbnb. If it's my first time and this happened there has to be a lot more going on. I provided pictures of the listing that is currently still up after I provided Airbnb with the details. I also submitted a complaint with the BBB.