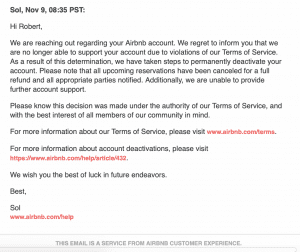 I, of course, first tried to quickly post this on the Airbnb community boards, but since I was permanently deleted, I can't access any of that. Anyway, buckle up for this story. Some people have trashed me for this, but letting my apartment on Airbnb was a last resort for me: I was going broke and needed to make some money.
My place before was used as my recording studio as well as my apartment, so it needed some renovations to be converted into a proper rental space. Namely, my queen bed was lofted about eight feet up a 90-degree ladder, so that had to come down. Because I intended to keep using it as my studio in between rentals, and after I (hopefully) stashed some money away – to be able to record again once I needed less rental money – I made some renovation choices that cost more than they would have if I'd gone for the cheapest solution out there. Namely, I made my queen bed into a foldaway murphy bed.
The point is, I took my last $1,500 and made a beautiful, very cool rental space. Bookings rolled in fast, and the space was booked clean through January 15th for a total of over $15,000 in bookings.I thought my money problems were solved. Still, it's a full-time job managing an Airbnb, and the first three weeks have been crazy busy. My third booking deserves a post all it's own here, but it's the reason this post exists.
Some guy books. He said the place seemed like a great place to take some photos of his "artist." I assumed this was referring to a musician since my place has instruments on the walls and stuff. I reached out right away and told him that the piano he sees in the photos is being replaced (grand going to upright for space), and won't be there during his stay. No reply.
The next time I hear from him is one day out. He asks me if I can "fire up the studio," so he can get shots of his "artist" working with his "producer" and maybe even "record some freestyles." My rules explicitly state that the recording equipment here (it's really not much anymore) is off limits without "my supervision or my permission after we've discussed your background."
Instead of saying it like that, I'm way too nice, and he takes it to be me pitching myself as his assistant to try and get more money. I basically suggested that I should be there for that and that he might consider paying me for my time. His reply is curt and I start to get a bad feeling. Still, the booking is on, even without "firing up the studio."
On the day of, he shows up with four or five clearly 14-15 year old boys. I ask him what's up and he says they are his "artist" and aren't staying the night. Okay… fine. As I'm giving him the tour, I can tell he's rushing me out. I'm more suspicious. Still, because I have a new listing, and am a new host terrified of bad reviews, I am kind and welcoming and then I leave.
Fast forward to 11:00 PM. My neighbor texted me saying there was a party going on next door. He's seen lots of very young boys and girls coming in and out. I texted the guest and tell him that everyone needs to be out in ten minutes or I'm calling the police. To my surprise, he quickly gets them all out, but my neighbor overhears him loudly calling me "a piece of shit" in the hallway.
Earlier in the day I allowed him an extra hour check out time, so I texted to let him know my neighbor told me he thinks I'm a piece of shit and that he needs to be out at 11:00 on the dot, no late checkout. When I returned the next day my couch was ruined. There were stains all over it. Ten bags of KIND granola I ordered from Amazon for people's breakfast were now zero bags. 40 bottles of water are now three in the fridge.
My Larrivée acoustic guitar is cracked. Counter top broken. Curtains broken. Ashes everywhere. Weed pieces everywhere. Empty liquor bottles and red solo cups in the garbage. I reported this to Airbnb. I followed their protocol of first claiming the damages to the guest, and then waiting 72 hours and filing a claim with Airbnb.
Meanwhile, this guest trashes me in his review and it's full of lies that I can easily disprove by posting screenshots of our messages. There's no place to do that except in the listing photos, so I decide I'll put them there for a week or so and then take them down once they are no longer relevant. Bad idea. Airbnb suspended my listing, and told me to take them down. I do. I explained the situation and stressed that I didn't know that was not okay. Hey, I didn't. It's hell getting them to turn my account back on. It took three days.
1.5 weeks go by and I'm in the middle of handling the claim with an Airbnb rep when I get a voicemail from another Airbnb rep saying that she has a report about something and I need to get in touch, but that she's in Europe so I have to answer her call between 7:00-10:00 AM. She also emails once, and I replied to her email with information about when to call. I suggested we handle it via email since the calling might be difficult. No reply.
The next day I'm handling another Airbnb headache with a guest and a call comes in from a number I don't recognize, and not even thinking about it, I let it go to voicemail. It was her. I tried calling back ten minutes later but as many of you may know, you cannot reach the "trust and safety" department unless they call you. I can't be transferred to her. It's impossible. Still I leave a note with guy on the phone to let her know I'm trying to reach her. I also go and reply to her email again. No reply comes.
Next day. No call comes, but I do get a voicemail from her hours later. The phone must have been off or without service when she called. The same exact process as the day before happens. She will not respond to emails.
Next day. I lost all the money I invested. I lost $15,000 in bookings. I cannot reach anyone. No one will call me back. Apparently, once you receive this letter, Airbnb ceases to discuss anything with you. However, during one call to try and get through, the "front line" phone guy slips and mentions something about a "bullying" report. The photos I posted. The guest must have seen them before I took them down and reported it as "bullying."
That's all I'll ever know apparently. I had guests coming tonight, and every night until January 5th. I can't reach any of them. They are all permanently deleted, so even if I magically get my account back, my bookings are all gone. This being my "last resort" way of making some money, I now have $3 in my checking account and no way of making more. I'm eating the last of my PB&J right now and then I don't know what I'm going to do. Not much left here I can even sell to make some money to eat. I'm devastated.