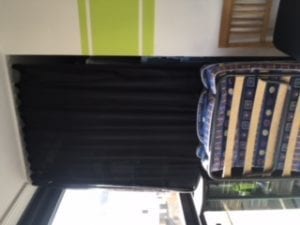 It was a basic schoolboy/girl error. I have watched enough TV crime detective series so why on earth didn't alarm bells ring when I saw mention of personal belongings behind a black curtain on the Airbnb listing for what appears to be a charming and well-located 'apartment' at the heart of an historic German city?
All seemed fine on making the two-night reservation. The host accepted my solo female traveller booking and a few days before check-in I messaged him, helpfully I thought, with my arrival time in the city. To my surprise I received a very abrupt response, telling me he wouldn't be providing any details until 24 hours before check-in, not ideal as I was already travelling with limited wifi access but oh well.
Instructions arrived promptly, and I collected keys from a gruff local shopkeeper. On arrival at the property, I dropped a line to my host to let him know I was safely inside. He immediately replied – like in two seconds – insisting that I gave him a five-star review before I'd even put my bags down. He added ominously "do not touch any of the belongings behind the black curtain."
I glanced across at the curtain in question. It was a very flimsy piece of sheer fabric hung over a kitchen alcove stacked with plastic boxes. I thought no more of it until the following day. I received umpteen abrupt, accusatory texts from the host (which I have saved as screenshots) that put me on edge to say the least. In the first two, he said I had made his front window 'messy' but gave no indication as to how that could possibly be.
My heart started beating a little faster when, a few minutes later, I got the next one. He claimed his neighbour had told him that I 'love' his black curtain and that I had been going through his belongings… what? I glanced at the windows front and back and realised the lack of blinds or much in the way of curtains would make it possible for someone to see right inside with a strong pair of binoculars. That said, I had not gone near his alcove of mysteries, nor would I. So what was he on about?
Feeling unnerved and by this point seriously considering paying to stay the second night in a hotel, I glanced again at the listing and his reviews. I was struck by how many negative reviews he'd given his guests despite their seemingly positive public reviews. He'd accused several of going through his stuff. I calmed myself down – perhaps he had experienced some very bad tenants that had left him feeling anxious and hyper-vigilant? Still, my mind boggled. Why did he keep his precious things in such a vulnerable place instead of in storage?
I settled myself down on the balcony with my book and salad to distract myself from all negative thoughts – this was meant to be a relaxing mini break from work after all. I'd be gone early the next day. Then I caught movement through the corner of my eye. There was a man standing in the centre of the open plan studio holding a key to the door. I leapt up in shock and fear and, seeing my surprise, he muttered that he lived downstairs and had permission to access the wifi hub in the studio, which apparently served the entire building.
I ushered him out of the door politely in case things turned nasty, and contacted the host. Instead of apologising, the host replied defensively that it was my fault for not answering when he knocked and range the bell. Again… what knock, what bell? How would he even know so soon after the incident? Needless to say I left and I never did find out what was behind the black curtain…