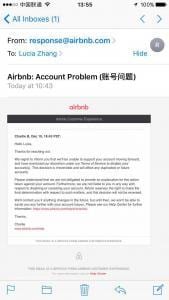 It is really infuriating and irresponsible to unreasonably block a Superhost. After a crazy guest stayed in my apartment for four nights, I experienced the worst nightmare that I ever experienced in my whole life. This guest considered my place – for which she paid 15 USD a night – a 5-star hotel; she kept calling me to repeat her questions, and asked me to move her luggage (I'm a girl too – not her porter). What's worse is that she knocked on my door in the early morning, claimed I didn't give her the keys that first morning, and shouted at me. After a while, she found the keys in her luggage.
This was a really horrible experience. I was worried she would make more trouble, so I called Airbnb to see if I could cancel her booking. They expected me not to cancel and convinced me to continue to host this horrible guest.
The last night, I heard her moving things in the sitting room. I got really worried she would do something weird, so I got up and asked her if she was checking out or something. She just ignored me and then said, "I paid to live here; I will check out anytime I want. It is none of your business."
I told her, "Sure, it matters to me, because this is my home!"
Then she started to call me a psycho and even attacked me, saying that I have a bad relationship with my colleagues, which was really crazy. I really couldn't put up with her anymore, so I called Airbnb again to ask if I could still cancel her booking. I refunded the guest to check out earlier in the morning, at 5:00 AM. At 4:40 AM, she locked the room of her door and prepared to leave. I got really worried she would just leave with my key after the four nights of this nightmare experience with her. I asked her to leave the key, otherwise she couldn't leave. She went to her room, and after ten minutes, the police knocked my door.
She called the police and lied that I threatened her safety. I was the one who got worried about my safety, since she's much stronger than me and good at lying. As I explained everything, she was still calling my name and screaming. The police understood everything and asked her to shut up and not disturb the neighbours, and then they left. She asked my doorman to move her luggage and kicked my door when she left. When she returned the keys to me, I realized there was only one key for the bedroom left, when I gave her three keys at the beginning.
I thought my nightmare was over, and didn't want to go after her for the missing keys anymore. I just wanted peace. In the afternoon, I found out my account had been blocked by Airbnb. I had been managing this account on Airbnb with all of my effort for a year. Until this crazy guest showed up, I had all 5-star reviews, and I had already been made a Superhost. I called Airbnb three times with no answer. After a few days, I got an email saying that I have been blocked without any explanation. I don't understand how they can do this.