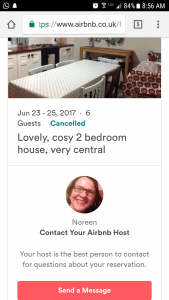 If you are looking for an Airbnb the Galway area, avoid this host. I take issue with a few things that happened in my encounter with Airbnb. This was my first time attempting to use the service and because of the way this cancellation was handled, I am unable to leave a review of the host on the other end of this reservation. I think the way this was handled was extremely unfair. I don't think it is good business practice to not allow me to review this host so that others may avoid this problem in the future.
I booked the reservation for myself and five other travelers. Within just a couple hours of payment, the host contacted me and said that she had accidentally listed the wrong dates and could not accommodate us. However, when I attempted to contact her, the phone number she messaged me with came up as disconnected. I was also unable to message her. I could not reach her to ask further questions about how the cancellation would work and the money was already taken from my account.
I was obviously concerned, so I called Airbnb's customer service number and spoke with a representative. While he was quite helpful, he did not seem to grasp what I was trying to tell him. She, the host, was the one who canceled the reservation, not me. Airbnb and the host alike both seemed to expect me to cancel the reservation so that the host could avoid a penalty. To some extent I understand this, but on the other hand I believe it to be a dishonest and inaccurate way to handle the situation. The bottom line is, she cancelled, not me. She does not have to pay a penalty but I am out $440 for up to five days as a result of her canceling.
Not only was that situation incredibly frustrating for my first experience with this business, but I am unable to leave any sort of review for this host so that other users may avoid this situation in the future. I am unsure how Airbnb handles affairs with their hosts, but the fact that this cancellation was handled like I was the one who canceled it so that the host could skirt around the penalty is very suspicious and untrustworthy. It is unfair to users who have their money suspended for a week while the host gets off. It is even more unfair that she is completely unreachable and Airbnb has no way for me to leave a review or lodge a formal complaint about this woman.