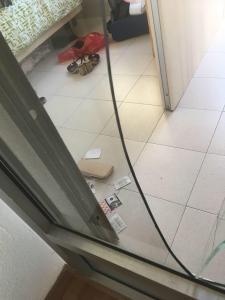 I organised a trip last year that I will surely remember. I'm getting married in September and I organised a hen-do in Barcelona with my Italian friends who were flying from Rome and Bologna. Lots and lots of preparation. A nice flat with a terrace to enjoy our precious (and rare) time together. What could possibly go wrong?
We were all so excited. The area was Hospitalet de Llobregat. Not central, but not that far from it; we just wanted to spend time together. From the beginning, we realised how dodgy that place was, and this was confirmed by many people we spoke to after the break-in, police included. Some taxis refused to take us there on Friday night, and the policemen said that in particular the street where we were was very dangerous, so extra care should have been taken when someone has to stay in that building. Were there any mentions from the host? None whatsoever.
After few hours after our arrival, we had a break-in in the flat as soon as we went for dinner. They stole iPad tablets and glasses. The terrace (i.e. the major selling point of the flat) was extremely exposed and not safe. We discovered the following day that it was easily accessible through other communal terraces and the police forensic expert confirmed that this is what happened for our break in. The window of the bedroom facing the terrace where the thieves entered was faulty; it was not possible to secure it properly.
This should have been sorted by the host before we entered the flat, given how dangerous the area was known to be and how accessible the terrace is. It is not possible that the owner did not know both of these things, and yet (again) there was no warning or thought given to our safety or the security of our valuables in the flat. We had to spend our Saturday (the only day we could have been together) dealing with Forensics and Police statements and searching for another place to stay for the night.
Airbnb completely refused to give us any compensation for the accident, not even of the items stolen. This was all host's fault and it was very preventable. The holiday with my friends that we dreamed so much about it? That opportunity is gone forever and there will not be another time to do this. I kept phoning the complaint department who kept saying that they were re-opening the case, to then discover that the original department, Trust and Safety, kept closing it.
Did someone check into the flat after the break-in? They just "recommended" the host to repair the window. Trust and safety? A lot of trust for the reckless host and zero safety for me. The host begged me to not post any reviews and I was holding until the case was closed. Discovering what? That for a hidden policy you're not allowed to write any review on the place you've visited after 14 days. This is not mentioned in any email they send you or on the website at all. It is buried in one of the forum posts. I felt I completely lost on every angle.
I was a great fan of Airbnb, but this completely changes my perspective. Security is not contemplated at all in any of the flats they list, and this is shocking. Something goes wrong and they don't take any responsibility, they don't refund you and you cannot even share the experience with the others. A total disgrace.