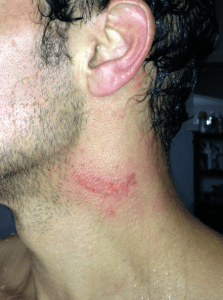 Help,
I have no news for over 24 hours from airbnb.
Yesterday some very strange behavior form a married couple who reserved to stay in my home over 4 months ago.
They broke almost every house rule and i didn't know what to do, so i wrote airbnb for some advice.
They never responded.
The next morning, the guests arrived home screaming and shout profanity from outside the window (i didn't know they were out all night long), the door was open but the husband was too hysterical to try opening the door.
So stupid me, i let him in so he could collect their things and instead he punched me, then kicked me, then grabbed my throat… i had just woken up in PJ's and did all i could to retreat to my room and fight him off to lock my bedroom door.
They eventually left after causing much damage.
What was I to do at such an unexpected human behavior?
What happened to them during the entire evening out in the city?
So i wrote airbnb… still no news of the official complaint of these guests.
I also went to the police and hospital, my friend took photos of everything.
Still no news from airbnb.
I have been an excellent host, and my profile (and life for that matter), show exactly what kind of man i am.
It is a huge embarassement that airbnb has still not taken this matter seriously to connect with me.
I am very dissapointed. (tired, frustrated, traumatized really)
Just trying to breathe… and relax…n i feel awful (and i'm not talking about the bad neck, marks, bruises), just feel violated.
Really, like what neanderthal does that?
And his wife did nothing?
What the hell happened to these people and why did they take it out on me?????
I haven't been in a fight since grade 4 !!!
And it was obvious that he is a well seasoned physical abuser… no wonder the wife was the way she was.
Can anybody help?
No, i guess better to write this down and let it all go… bye bye