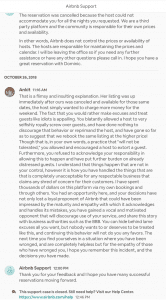 I booked a place in New Orleans a month ahead of a music festival we were going to attend. The night before our reservation, the host cancelled our reservation without any explanation. We needed to search for a new place, and during the search, I saw our original rental available for the very same dates, but for 2.5 times the rate we had originally booked a month prior. The host must have not have known that the festival was occurring, but upon realizing it, decided to callously screw over three people by stranding us with less than 24 hours before our flight to New Orleans.
Throughout the ensuing discussion with Airbnb customer service and our frantic search for lodging, Airbnb handled this situation incredibly poorly. I was repeatedly promised call backs within timeframes that were not met, and I waited well into the wee hours of the night trying to resolve our lodging situation for the flight the next morning. Airbnb admitted as much as this sort of practice by hosts is not tolerated, and yet they allowed the host to get away with this scot-free.
The major reasons we booked the original space was due to its cheap price (as the entire trip was already stretching our budgets) and its close proximity to the festival venue. When trying to book places with similar proximity, Airbnb refused, stating that the prices were not comparable. Well of course they weren't; we were now forced to make a last-minute booking during a very busy weekend. Airbnb refused to take responsibility in this case and provide us with an equivalent replacement without tripling our original booking rate. At one point, they even suggested we rebook our original place at the surged rate. They encouraged this extortion that they attempted to claim was not tolerable.
In the end, after hours of countless messages and calls well into the night and the next morning right up until we had to leave for the airport, we were left with a house miles farther than our original place (which ruined many of the plans we had made, including being able to walk to the venue, causing transportation costs to further inflate the trip's budget) at hundreds of dollars more. I understand that cancellations will happen, but if the risk exists that these cancellations can occur so last minute and solely due to the greed of the host, and that Airbnb will refuse to take responsibility and even encourage hosts from extorting guests, than I must refuse to use this service ever again. An example of the utterly callous communication with Airbnb customer service is attached. They could not care less about unsatisfied and frustrated customers. If you are visiting New Orleans in the future, do not book here.