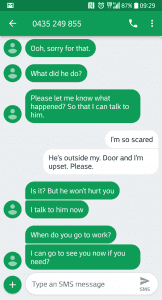 Emails between Airbnb customer support and myself:
"Hello, I was not able to stay here as the other boy living in the apartment harassed and abused me. It was so scary. I had to flee at 6:00 AM, taking my wet clothes out of the washing machine. I was going to call the police but I just wanted to get out. The host offered me alternative arrangements but it was so traumatic and awful I just want a refund. So bad. Worst Airbnb experience. I can provide more details of the harassment. The boy took a video of me and laughed as I was crying and begging him to leave me alone. I can easily get a police report if you need it."
We are very much concerned about your current situation and we want to verify if you are now safe. We also want to know if you were able to find a secure place. Please let us know how we can help so we can call this to the attention of the other department.
"Yes. I left immediately and am staying in a hotel. The host was extremely apologetic (obviously) but the situation was really scary. The power in the unit had gone out when I got home from work and so I couldn't have a shower; my washing hadn't finished and there was no air conditioning. When I asked the boy if he knew where the fuse box was he became irate that I had used his washing powder (which I didn't realise wasn't communal) and was also very angry that I had gotten home so late and that I needed to leave so early in the morning (I work very long hours). The whole situation was a bit of a nightmare to be honest, definitely out of character for an Airbnb experience. I am completely fine now, just a little rattled and in need of finishing my washing."
Thank you for confirming that you are now on a secured location. We really value our guest's security and you were right in highlighting this concern. In relation to your recent reservation, I understand that you paid a total of $465.32 for four nights, but due to what happened, you were not able to fully utilize the reservation. I have escalated this concern to our of our case managers. Kindly expect a communication from them anytime from now. I am really sorry that you have experienced this; I know that this is not normally how things go with bookings. In case there is anything else I can assist you with, I'm entirely at your disposal."
A short time later…
"Thanks for reaching out. I'm happy to help. We're very sorry about your experience. We're glad you feel safe now and that you've found an alternative place to continue your trip. I'll talk to the host about your refund for the nights not stayed. I may also need to alter the check out date.
"I think I should be refunded for the whole time as I was put in a completely unreasonable position. I also don't think this a good place for people to stay. The boy who lives there is aggressive and even after I locked myself in my room crying on the phone to my husband he stood outside banging on the door abusing me. He smoked inside. The power didn't work. It was pretty much a bust. A total refund is basically the minimum I would expect. Thanks."
I understand. I'll inform the host. To set your expectations, though, in our refund policy, the guest is entitled to a maximum of 50% if they stayed despite the issue. This is to be fair to the host as the listing was used. We are generally in a much stronger position to assist any of our guests when we're contacted within 24 hours of check-in so we could have helped you in arranging for a transfer to another suitable listing. I'll talk to the host about the full refund. She is yet to respond.

Also, we need documentation for us to establish the issues so we can adjust the payment to the host accordingly. She agreed to refund you the last two nights. And she said the boy was disturbed by the noise late last night. Please send if you were able to take photos of the other issues. Once we establish a hosting violation, we can work out the additional refund. But as a courtesy from us, I've issued a discount coupon to help in your next payment should you book with us again.
"I feel as though as I should be extremely explicit about what occurred. It was my understanding, maybe misunderstanding, that I would be staying with my host and not an overseas student. When I first went to the house to get my key it was not what I was expecting at all and I was very apprehensive. However, I was on my dinner break with a taxi waiting downstairs so I chose not to bring it up. I also chose not to stay at the apartment and crashed on a friend's couch instead as the apartment was a bit dirty and smelly. This meant last night was my first night in the apartment.
I arrived there at midnight. I did not make any noise but the boy (who I had never met) had his bedroom door open which opened onto the hallway. I apologised and closed his sliding door. I appreciate he probably wasn't expecting me given we had never met and I hadn't been there the night before. The house smelled intensely of smoke and there were empty bottles on the table and bench.
I put in a load of washing and while I was reading in bed the power went out. It was very late (2:00 AM) so I just went to sleep. In the morning when I woke up (6:00 AM) the power was still out, my washing was sitting in a pool of water trapped in the washing machine and the bathroom was too dark to have a shower. I messaged the host about the power and she told me to wake the boy, whom I assumed was her son, and ask him to check the fuse box. I knocked on his door and went in. I asked him about the power. He said "what the f#$k is wrong with you?"
I apologised and left the room. I messaged the host again. She messaged me back to ask what time I had to be at work. The boy got up and came to my room. He was shouting and getting too close to me. He kept saying "what the f#$k is wrong with you!?" and being aggressive. I was sort of flabbergasted and I asked him to leave my room. I also remember telling him to leave me alone. He left my room and I shut and locked the door.
I messaged the host to say the boy had been very rude to me. I got dressed for work and as I was doing my make up (by torchlight) he began banging on my door and shouting things like "what have you done to the power", "you have ruined the house" and "how do you live?" – those sort of nonsensical things.
I opened the door to ask him to stop and also because I thought I could calm him down by explaining the power situation. Instead he stopped me from leaving the room, moved forward towards me, raised his fists. He laughed when I flinched. I thought he would punch me. I wanted to deescalate but I couldn't work out what was happening. He said he wanted to kill me and some other threats I didn't really understand.
I was very scared and I ducked down beside the bed. He left the room and went onto the balcony. I shut and locked the door again and sent the host a message saying "I am extremely scared for my safety. Please help."
She replied saying the boy would not hurt me. It is sort of difficult to explain the way a woman feels when confronted with a violent man. We've been calling him "the boy" but he was in fact a strong young man. I thought he could do anything and I could not do anything. I began to cry. I called my husband to ask him what to do but he didn't answer. I decided to just leave for work. I got completely ready and tired to leave even though I didn't start work until 8:00.
The boy would not let me out the front door. He was mocking me for crying. He threw somethings at me. He took a video of me on his phone as I begged him to leave me alone. He got mad at me about the washing detergent, demanded I pay for it, held the box up to my face with his other hand behind my head. Pushing them together. Mock rubbing my face in it. He wasn't aggressive, but more menacing and frightening.
My husband called me back distressed by the panicked voicemail I had left. He instructed me to pack my things and leave and if he wouldn't let me leave to call the police. I told the boy I would call the police if he didn't stop. He mocked me for over reacting but also seemed a bit nervous. He said a few more awful hurtful things. I was crying a lot by then. The power came back on. The boy got in the shower.
I quickly packed while he was in the shower. I put my wet clothes in a bin bag. I left my toiletries in the bathroom and my phone charger. As soon as the shower went off I ran out the door. I stayed on the phone with my husband until I was in the lift and it cut out. The left items are worth about $50. I had to get a taxi which cost $30. I was too upset to work today, which cost me $350. I had to go to the laundromat, which cost $6.
If you think what happened to me deserves a partial refund you have a very strange idea of customer service. While the host was not malicious she was culpable, neglectful and opportunistic. This is not a safe place for women or anyone really to stay. For documentation, you could check the hotel's security tape of me running and crying for my life. You could ask the front desk who saw me terrified. I have the messages with the host which I sent you. I have the voicemail to my husband. I offered to get a police report. I'm still considering pressing charges."
Again, we're very sorry for what happened. Due to lack of documentation, we are unable to chase a full refund from the guest and also to be fair to her, you've stayed for two nights hence she has to be paid. If you were able to get a police report, we'd like to check this so we can also see if the listing is safe for future guests. It would be a great help from you. For the missing items, kindly open a resolutions tool for the host. 
"I can't help but feel you're not taking my report of physical and emotional abuse seriously. I don't care about the money. I'm worried other single women will be harassed. I don't feel like this is the political climate to ignore women's reports of abuse."
I hope you can believe me when I say safety precedes everything. The reason why we cannot chase the full refund from the host was because you stayed for two nights. The first and foremost best and first responders to an emergency are the police and I do hope you were able to report this to them. I also hope you understand our position to maintain our objectivity and our need for documentation.
"And I hope you appreciate that by putting the onus on me to prove what happened to me you have already made a decision to prioritize property over people. Is the host being asked to provide evidence I was safe? It seems clear that you care about your bottom line but I wonder how it might affect the bottom line if people no longer believed solo female travellers were safe in Airbnbs."
That is exactly the reason why we ask if there is documentation you can provide that the property is not safe so we can present this to the host. I already mentioned the boy to the host and the host said he might have been disturbed with the noise about 1:00 AM when you got home. This was between the two tenants, you and the boy mentioned, so we are trying to establish the safety concern you raised to us. Were you able to take photos of the empty bottles you saw? Also, the host said the power was cut for a few minutes only. We are a third-party website not present during the reservation and we need to be objective in making our decisions. I may believe you, I truly do, but we need proof. Please advice if you are able to send that to us.