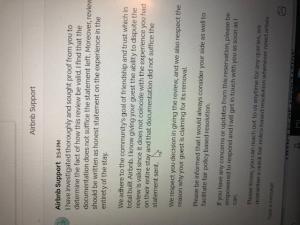 I have to share two host stories. One relates to systemic fake reviews. I recently had the most horrible guests at my house. They were incredibly messy, rude and blackmailed me to have free pool heating during their entire stay free of charge with the threat of a bad review (pool heating is about $200 per day).
Once I reviewed them, I simply stated that they were very messy and overall very difficult to deal with as I had heard that Airbnb tends to delete bad reviews based on "policy violation" and therefore didn't want to get too factual to avoid any frivolous claim retracting my honest review (note that this was my first ever "bad" review and frankly it wasn't even that bad).
Airbnb said that, based on a summary investigation (note: I even sent pictures of various damaged objects as well as messages from my neighbors stating how impolite and 'obnoxious' those guests were – I wasn't even asking for any dollar compensation), they determined it was "fair" to delete those reviews. They stated as follows:
"We adhere to the community's goal of friendship and trust which in total built Airbnb."
Note that these guests were exactly the opposite. As a result, anyone can dispute any review and get it removed saying it's not 'friendly' and it's really hard to trust anyone's reviews.
The second story happened in my New York apartment. A crazy guest claimed (after using my apartment two weeks) that my neighbors threatened to get her arrested as Airbnb is "illegal" in New York. While she had no factual evidence whatsoever and she spent her time in my apartment, she was given a full refund after the stay (at my expense since Airbnb took out the full $4,000 from my next guest's stay without letting me know).
What this means is that, contrary to popular belief, Airbnb takes the strong stand that they are illegal in NYC and will refund anyone who makes up any similar story without evidence. So, if you are dishonest, go for it.