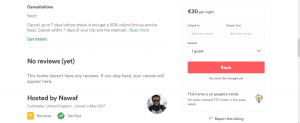 I cancelled a long-term reservation and fully expected to pay a penalty. What I did not expect was that the penalty would be 100%. The host's listing stated that if a reservation is cancelled more than seven days prior to the start, then a 50% refund would be given. See photo of screenshot.
After contacting the host a couple of times, who did not respond, I sought a resolution by involving Airbnb. They correctly stated that Airbnb's policy is a one-month penalty on long-term bookings but that hosts can decide on different terms not strictly supported by Airbnb. If that is the case then it is misleading, deceiving travelers into thinking that they will get a refund when in fact they will not.
The host has since changed his listing to match Airbnb's conditions. The host has also found a loophole in Airbnb's platform. Somehow the host was able to delete all previous reviews of their listing. Again, this is deceiving travelers. All this was pointed out to Airbnb in the photos attached. They closed the case and are now refusing to respond to my emails. I have now lost a substantial amount of money which I believe was through misleading information. I will never use or recommend Airbnb again. I feel sorry for all the legitimate hosts using Airbnb's platform.