Once a year, our family gets together in a waterfront home large enough to accommodate all of us so we can relax and spend time together. As our family has spread out across the country, this vacation gives all of us and our significant others a time and place to reconnect and create new memories together. We typically select an east coast location in the middle states. Today, the ten of us who traveled as long as 18 hours to get to our vacation home thank this host. Without her my wife would never be able to say, "someday we will look back on this and laugh."
This host is a self proclaimed intimacy MD. When advertising her psychiatry practice and her book she touts, "Achieve change. Are you ready for your best life ever?" If you are ready for your best life ever, stay away from her Airbnb and HomeAway listing in Virginia, listed on Airbnb  and HomeAway.
Giving credit where credit is due, the house is very pretty. Beyond pretty. However, the host was only looking out for her interests, not ours. The problems started when she requested a $200 deposit to use the boat listed with the house, which is a direct violation of Airbnb policy. Naturally, she accepted checks, but if you are already traveling how do you mail her a check in advance of your arrival? She also wanted us to take an online course and send copies of our driver's licenses.
Once you arrive, be aware there isn't a phone line in the house. Okay, she made it clear in her listing that there wasn't a phone line. The listing stated there was Internet access, but upon arrival there was a note stating the Internet modem would need to be reset frequently. Frequent resetting didn't matter The wifi never came up as available. Somehow the settings on the DSL modem/wifi unit were different than what was listed in the host's looseleaf notebook about the house.
We would have set up our own hotspot, but there was limited cell service at that location. We could receive calls, but sending and receiving email was rarely possible. A number of us are techies. To fix the problem, we set the wifi to the settings she had written in the notebook. Unfortunately for us, the Internet modem did in fact need to be reset frequently. The unit barely functioned for any period of time.
The bigger problem was the A/C didn't work. I couldn't get the house under 88 degrees. Upon closer inspection, the return filter appeared to be clean, but was not connected to any ductwork. The air conditioning would not function. That is the reason the A/C kicks on and the compressors make noise. Cold air was never delivered because there wasn't a return. Lucky for us, the host left us a notebook that said, "If you encounter any problems, please call #. We have a property manager who lives in the area but may not always be immediately available. We will do whatever we can to fix your problem as soon as possible."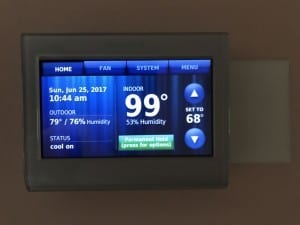 We called him. He asked us the address of the home. When provided the address, he told us we had the wrong number. What could we do? I called the host, but the call went to voicemail. The good doctor never answered her phone and only responded via email. When we emailed her to discuss getting internet access and air conditioning, she emailed back, telling us to leave and go to a local motel… talk about callous.
Ten people booked her rental home months in advance, paid good money, drove all that distance along with two dogs, and were told go to a local motel. Since I found it hard to believe, and you may too as she is an intimacy doctor, I pasted images of her email with the photos. Her next act to provide herself with her best life ever was to refund our long held deposit and email us to get out by 11:00 AM the next morning.
This goes to what Airbnb will never tell you about our stay. By refunding our money, this host ruined our vacation and prohibited us from posting a review of her home. Where do you go with ten people and two dogs for an entire week during the summer? By cancelling our reservation, even though we stayed in her 99 plus degree hell hole, she made sure that Airbnb and HomeAway would never let you hear about this.
If the self proclaimed intimacy doctor should ever read this, please note that there was no intimacy in your hellhole. At 99 degrees, which I am sure you never experienced in your personal home, intimacy is the last thing on your mind. Be sure to note that before you write your next book and invest the money somewhere else. Please don't invest in another house and then use it to ruin peoples hard earned vacations.