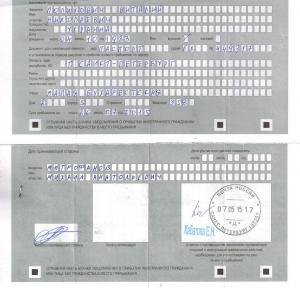 Those who expect scary stories will be disappointed. My Airbnb experience is generaly good. No one has scammed me or robbed me, but still, there are some issues on Airbnb that are intolerable and must be addresed. Just please excuse me for my English. I would like to report serious policy violations by some Airbnb hosts in Russia, where I often travel for business or tourism (don't get me wrong; there are also good hosts there – I don't want to paint them all with the same brush).
According to the Russian Laws, if you are hosting a foreign guest, you're obliged to register him/her, i.e. to notify the authorities about his/her arrival (by going to a governmental office, filling a certain form, showing some documents, etc.), but many hosts do not want to "waste time" with this bureaucratic procedure and they put their foreign guests in trouble. Airbnb rules say hosts must review the local laws before listing his/her space. By accepting the Terms of Service and activating a listing, they certify that they will follow their local laws and regulations. This procedure is informally known as "Registration of Foreigners", but the correct term is Notification of Arrival of Foreign Citizen (Russian: Уведомление о прибытии иностранного гражданина).
Some foreigners may be lucky to get away without this paper, but still, the host must follow the laws and play on the safe side. Random police checks are common in Russia and if the foreigner fails to produce the registration slip, (s)he may be in trouble. Not all foreigners know the laws and their rights, so this allows some corrupt police officers to threat them with fines or detention, or even to demand a bribe. Once I was even taken to a police station because I couldn't find this paper in my pockets.
Just don't confuse this paper with the migration card, which is given to the foreigner at the border crossing. The host must register the guest either through the Migration Service offices (GUVM MVD, formerly FMS), or Russian Post offices (this is simpler). I understand that many hosts do not want to deal with bureaucracy, but this is not a complicated and lengthy procedure as some may fear. It is an annoyance, but it's not mission impossible.
If your host is really the owner of the property and if his/her papers are in order, (s)he has nothing to worry about. This is mandatory; this is not a "special service" or a "favour" that a host may provide or not provide at will. I'm facing this registration problem everytime I go to Russia and this situation has repeated itself for years. I'm so tired. When I ask the hosts on Airbnb whether they can register me, I'm sometimes rudely turned down or ignored, or they find various "excuses" not to do it. Some hosts even suggest I go to a murky law firm, where I can be registered at a fake adress for like 20-50 USD or EUR. Basically, I can't choose a property by its quality, but I must choose the one where the owner is willing to register me.
I see other guests complaining about this issue in their reviews on Airbnb, but no one seems to care. As one Italian girl says in her review, she asked her Russian host for registration and the reply was rude: "It's your problem!"
Are the hosts afraid of taxes? Or are their papers not in order? Or are they just lazy? I don't know, but this behaviour cannot be tolerated anymore. In normal circumstances, every foreign guest must be registered by the host within seven business days after arrival. If the guest stays at the property less than seven business days, registration is not needed. If the foreigner changes several properties, (s)he must be registered in each of them.
Note that this summer there will be special regulations. There will be temporary tightening of the rules due to the World Cup in 2018 in certain cities and the registration must be done within one day of arrival. Other details may temporarily change as well, so please educate yourself if you plan to go to Russia.
I noticed that many Russian Airbnb hosts did not even bother to educate themselves about these temporary changes. If I asked them about it, they were confused or didn't care. These temporary changes have been published in the Decree no. 202 by the President of Russia: "On the specifics of the use of enhanced security measures during the FIFA World Cup 2018".
Many Russian hosts do not really understand the concept of Airbnb. They violate its rules and their local laws, they accept only Russian guests, and they post ads only in Russian, etc. Airbnb is an international website and some of its principles are hospitability, inclusivity and respect for the local regulations. Some Russians are not so politically correct and they even write ads like: "I offer a flat for rent to Russians only / Slavs only" (Russian: Только русским / Только славянам).
I'm Slavic myself, but still, this is not right. I also see hosts who demand cash for an Internet connection, a security deposit or even bedsheets. How come the admins don't see this? Note that Russia is not a 3rd-world country. Things there have improved in the last 10-15 years (at least in Moscow and other major cities). There's a middle class that can afford decent cars, apartments, gadgets and holidays abroad, so there's no excuse for violating the laws, committing tax evasion, and such. It's not the "Wild East" anymore.
In the past, especially in the 1990s, many Russians suffered in poverty, so I could forgive them, but not anymore. It's time to grow up, to file your paperwork, to pay your taxes and to stop playing games with guests. Right now I'm unable to find a good alternative to Airbnb and I'm sort of "forced" to use it. I can only hope that there are reasonable people who can clean up this mess or that a good competitor will show up someday.